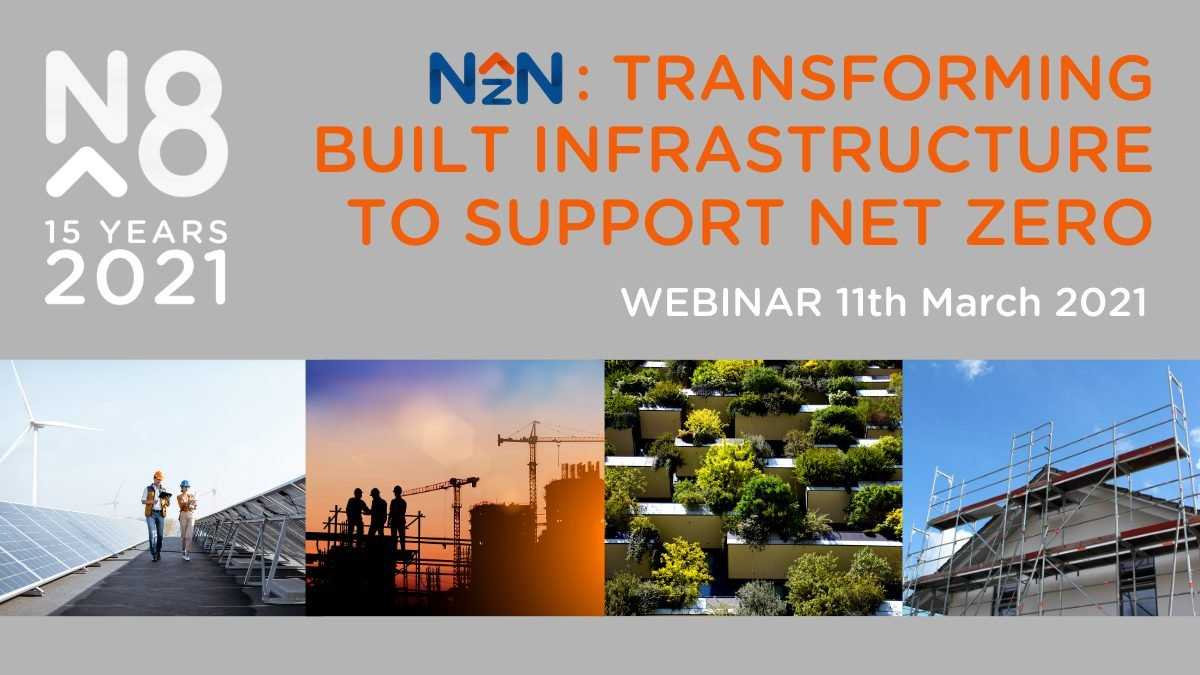 As part of the N8 Research Partnership's ambitious Net Zero North agenda, we bring you the second in a series of Net Zero North webinars, exploring how people and businesses in the North of England can support meeting climate targets.
Thank you to all of our researchers who joined the N8 Research Partnership webinar: How to handle impact in EPSRC proposals, on 11th March 2021.
You can watch a recording of the webinar here
Around 80% of the housing stock needed in 2050 already exists.  As the construction and built environment sector looks to reduce carbon emissions, this webinar explores how the North can be lead the transition to low-carbon construction methods and building retrofit by supporting skills and training, innovation, and wider community adoption.
Retrofit of buildings is one of the key actions recommended in the Climate Change Committee's 6th Carbon Budget, but also one of the costliest.  It is estimated that the Balanced Pathway requires investment of £12bn annually, leading to £5bn p.a. of savings in operating costs. 200,000 jobs would need to be created in the 2020s through to 2050 to deliver these changes.
We hear from experts from academia and industry, as well as from the US on the challenges and opportunities in future construction and retrofit for net-zero.  With perspectives on effective decision making, the shared challenges in New England and Northern England and understanding how learning can be shared between retrofit and new projects, this webinar explores how to make sustainable construction and retrofit a reality.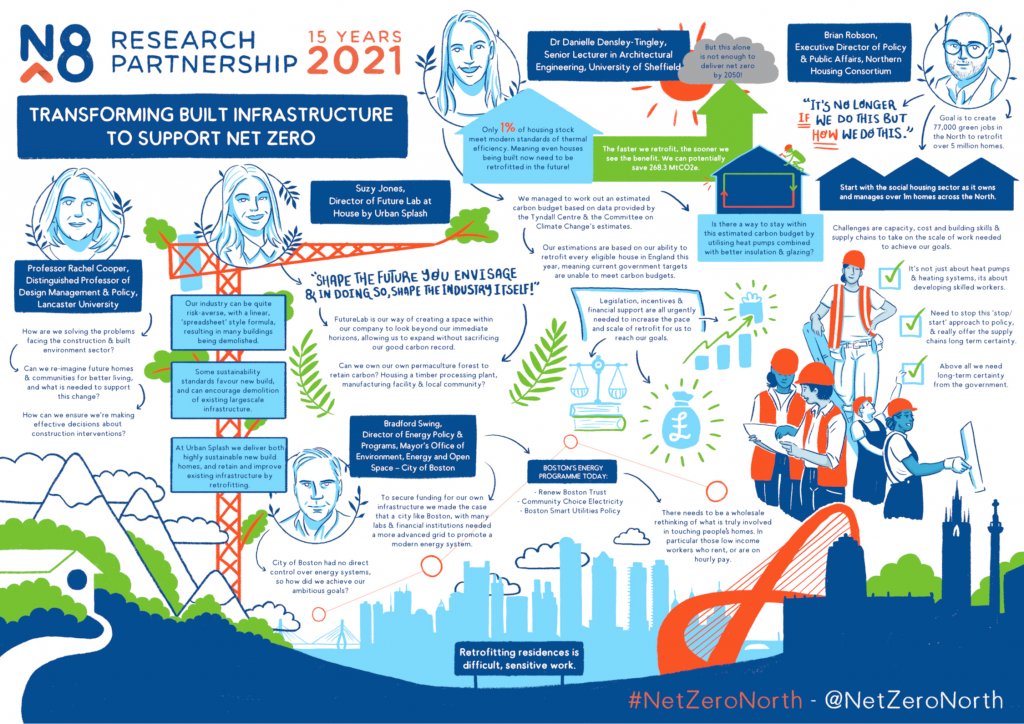 Click on the image above to view our event sketch note.
Webinar speakers
Chair's Introduction: Professor Rachel Cooper – Distinguished Professor of Design Management and Policy, Lancaster University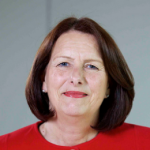 Rachel Cooper is Distinguished Professor of Design Management and Policy at Lancaster University. Her research interests cover: design thinking; design management; design policy; and across all sectors of industry. She has published extensively on these topics, including books, "Constructing Futures', Process Management in Design and Construction' 'Designing Sustainable Cities'; and most recently Designing Future Cities for Wellbeing (2020).
An academic leader with 20 years research experience and collaboration with industry partners. She was a Lead Expert for the UK Government Foresight programme on the Future of Cities (2013-2016), was on the UK Academy of Medical Sciences Working group addressing 'The Health of the Public 2040' (2015-16), is a currently a Chair of the UK Prevention Research Partnership, Expert Advisory Group and until October 2020 a non-executive director of the Connected Places Catapult. Rachel was awarded the OBE by the Queen for services to education in 2013.
Speaker 1: Suzy Jones – Director of Future Lab at House by Urban Splash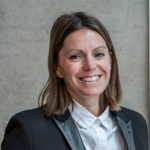 Suzy is well known in the architectural and cultural community for her approach to applied research through live demonstrators and exhibition or event-based engagement.
Her background as Director of RIBA North, the Royal Institute of British Architects facility on the Liverpool Waterfront, established her as real maverick when it came to thinking about the future of the built environment and the ways in which the sector may respond.
Suzy studied Interactive Arts at Manchester Metropolitan University and Visual Anthropology at the University of Lapland. Both experiences encouraged Suzy to think about how people engage with new ideas and the ways in which knowledge and understanding has a significant impact on behavioural change.
As Director of Future Lab Suzy looks beyond immediate horizons at the future of the way we may want, and need, to live in a future we don't yet know is coming. She leads teams of specialists exploring the impacts of societal, environmental and technological change on the design and development of homes and communities.
Speaker 2: Brian Robson – Executive Director of Policy & Public Affairs, Northern Housing Consortium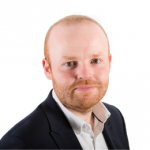 Brian Robson is Executive Director (Policy & Public Affairs) at the Northern Housing Consortium, where he leads the organisation's policy, communications and member engagement activities. Brian has worked in a range of housing policy, strategy and engagement roles, including four years leading the housing programme at the Joseph Rowntree Foundation.
Brian is a Chartered Member of CIH, a Clore Social Leadership fellow, and holds a Masters' degree in Regional Development and Spatial Planning.
Speaker 3: Dr Danielle Densley-Tingley – Senior Lecturer in Architectural Engineering, University of Sheffield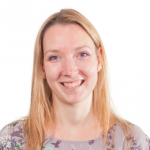 Danielle is a Senior Lecturer in the Department of Civil and Structural Engineering at the University of Sheffield. She is a Director of the Urban Flows Observatory, principle investigator of the EPSRC funded project 'multi-scale, circular economic potential of the non-residential building stock and a co-Investigator of the Active Building Centre, working on the retrofit stream of work.
Danielle is passionate about reducing the impact of the built environment on the planet. She particularly focuses on methods to reduce the demand for new material use, e.g. through increased retrofit to extend building lifetimes and reduce operational carbon, as well as applying circular economy principles to new built environment design.
Speaker 4: Bradford Swing – Director of Energy Policy and Programs, Mayor's Office of Environment, Energy and Open Space – City of Boston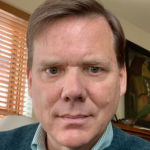 Bradford Swing started Boston's energy program, created the City's Municipal Energy Unit and, as Director of Energy Policy and Programs, oversees Boston's energy activities. He created the Renew Boston Trust, a self-funding energy efficiency program for municipal buildings, which in 2020 led to the City's first green bonds issuance.
Brad developed the Smart Utilities Program, administered by the Boston Planning and Development Agency, which coordinates utility infrastructure planning at the earliest stages of the development review process. He also initiated district energy, microgrid, solar and green building programs, and created Renew Boston, an energy efficiency community outreach program. Brad advises the Mayor and the Chief of Environment, Energy and Open Space on all local, state, and federal energy policy issues, and from 2012-2018, represented Massachusetts cities and towns on the statewide Energy Efficiency Advisory Council.