N8 Rights Retention Statement
The N8 supports research being able to retain their intellectual property rights when their work is published in a journal.
The N8 universities launched, in January 2023, the N8 Rights Retention Statement.  The Statement, which has been coordinated through the eight universities' PVCs for Research, Research Offices, Legal Departments and Libraries, reflects the shared conviction of the importance of researchers retaining their rights.  It is the first Statement supporting Rights Retention by a university consortium.
The N8 Rights Retention Statement strongly recommends that researchers do not by default transfer intellectual property rights to publishers and use a Rights Retention statement as standard practice.
The Statement will form the underlying position of each N8 university's Publication Policy supporting researchers in retaining their intellectual property rights.
The Rights Retention Statement and an infographic can be downloaded from the links at the bottom of this page.
Professor Christopher Pressler, John Rylands University Librarian at the University of Manchester and chair of the N8 Library Directors' Group said:
"The Rights Retention Statement matters because for decades the sector has struggled to initiate progress towards open access. At the root of this has been the transfer of intellectual property of submitted research outputs to publishers by researchers. This once standard practice has slowed progress in open science and public access to research by at least thirty years.

"Rights Retention means researchers will for the first time have a strong hand in terms of control over their own work, transforming the position university libraries and Jisc often find themselves in when negotiating with suppliers who claim ownership over content produced by those same universities."
University leaders from across the N8 have been speaking about the importance of Rights Retention:
Rights Retention Resources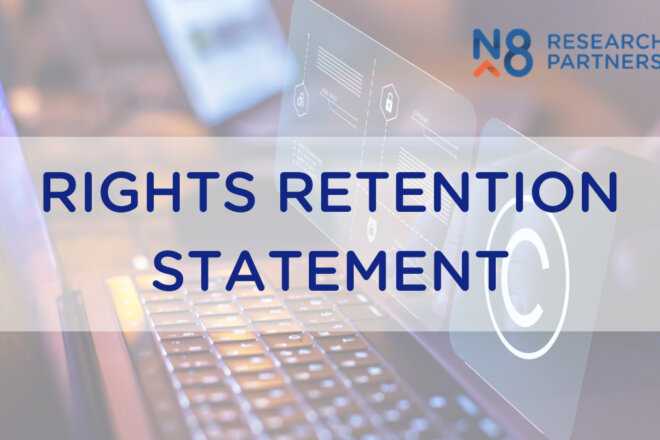 File name:

N8-RightsRetentionStatement.pdf

File size:

668.07 KB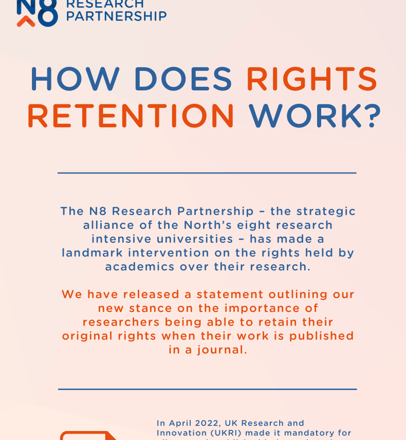 File name:

Rights-Retention-f.pdf

File size:

709.07 KB