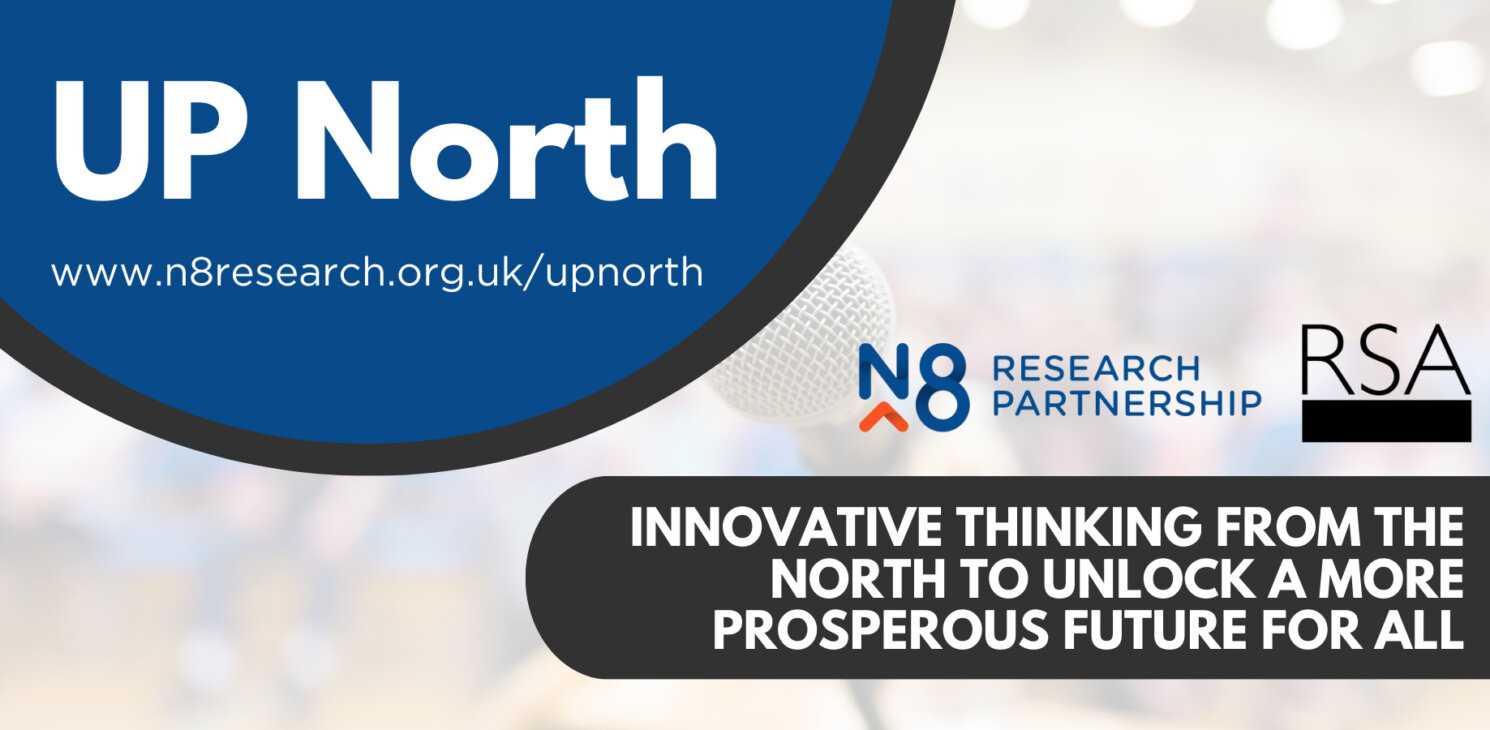 Further details have been revealed of a series of public events hosted by the universities of the N8 Research Partnership, in collaboration with the Royal Society of Arts.   
UP North: Innovative thinking from the North to unlock a more prosperous future for all will encompass a series of public events, inviting regional and national policymakers, local experts, and renowned commentators to discuss the unique contribution the North of England can make to a range of challenges the UK faces, and deliver on the promise of unlocking prosperity and closing regional divides. 
The events will be hosted across the North of England by the N8's member universities and will be chaired by Jennifer Williams, Northern England correspondent for the Financial Times. 
The first UP North event took place at the York Festival of Ideas on 15 June and examined the need for a new approach to urban regeneration through inclusive growth and by harnessing the power of major employer institutions, education providers and social enterprise to deliver more equitable and inclusive economic outcomes for everyone.  
Future events in the series will look at issues including the role of culture in the regeneration of cities and towns, the huge potential for the North presented by innovation in various industries, and how closing the gap in incomes, skills and opportunities can contribute to more resilient futures for people, places and the planet.     
Provisional timings, locations and themes for the subsequent UP North events are as follows: 
September (University of Leeds): Developing a sustainable health & social care workforce 
October (University of Liverpool): Addressing inequalities in digital access and skills 
November (Durham University): Cultural regeneration  
November (University of Sheffield): Harnessing innovation-led growth 
November/December (Lancaster University): Transforming coastal communities  
January 2024 (University of Manchester): Innovative approaches to tackling poverty and inequalities 
January/February 2024 (Newcastle University): Skills for the green economy 
Further details for each event will be shared in due course. To be kept updated either visit our UP North page, where you can also subscribe to the N8 newsletter for updates, or follow @N8research on Twitter and Threads. 
Dr Annette Bramley, Director of the N8 Research Partnership, said:
"We're looking forward to bringing the UP North series of events to venues right across the North, and for the fantastic range of contributors they will bring together to spark conversation about the North's role in regenerating the country's communities and economy at this critical time. 

"Through research and innovation, Northern universities will play a key role in unlocking prosperity within the region, and we hope our UP North events will inspire both people and businesses to think about how together we can contribute to addressing inequalities and realising a more prosperous future for all." 
The RSA's Chief Executive Officer, Andy Haldane, said:
"We're very pleased to be able to be partnering with the N8 Research Partnership on this calendar of events across the North of England. This is a hugely important time for the economy, and for the Levelling Up agenda. By combining our forces on this programme, the RSA and the N8 can help to make sure that the cause of addressing regional inequalities is taken seriously across the board in the run-up to a general election. Too often, the needs of the North of England are not given a fair hearing, and this series is part of an attempt to remedy that."