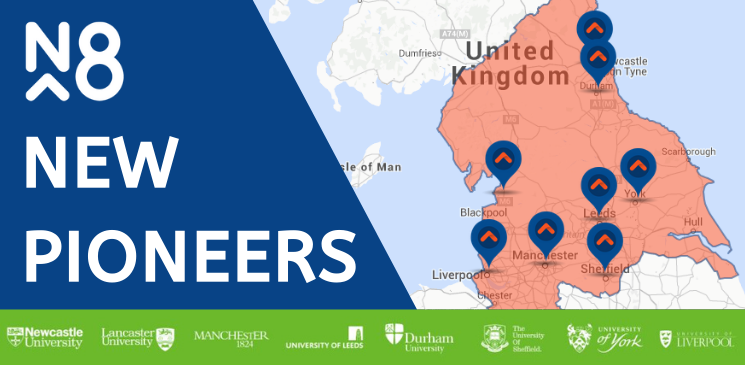 From 6th to 19th January, we'll be entering the new decade with a social media campaign celebrating some of our rising research stars across the N8 universities – the 'New Pioneers' of research in the North.
The N8 Research Partnership is a collaboration of the eight most research intensive universities in the North of England.  Among the 19,000 academic staff across the N8, there spans a wealth of experience and expertise in areas across the physical, life and environmental sciences, engineering, social sciences, the arts and humanities and more.
With innovation and collaboration at the forefront of our aims as a partnership, we would like to highlight and celebrate some of our exceptional early careers researchers – rising stars who have already made unique or pioneering advances in their research field, or are creating real world impact through their work by partnering with industry and society. (These don't have to be N8-specific research programmes.)
We'd like academic staff from all eight N8 universities to nominate some fantastic early careers researchers – the 'N8 New Pioneers' who are the ones to watch!
Please send your N8 New Pioneers nominations, with a photo and the following details by 14th December to: info@n8research.org.uk.
N8 New Pioneers nomination:
University department/programme
Role and experience to date
Example of great achievement/pioneering work within the N8
A website link to find out more about the department/project
Please follow the N8 Twitter account to find out all about the work of our final featured 'N8 New Pioneers' from 6th – 19th January 2020.