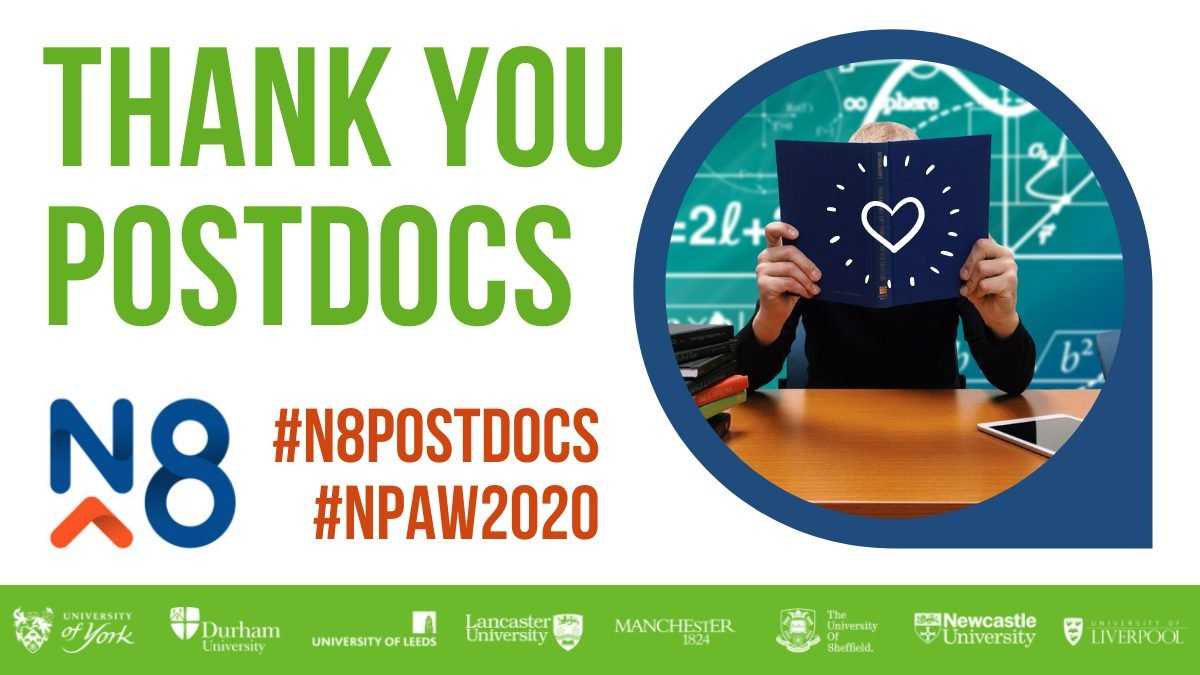 From 21st-25th September, the N8 Research Partnership celebrated 'National Postdoc Appreciation Week'.
This national event is an opportunity for universities to recognise and thank our postdoctoral researchers for the significant contributions that they make to the research and teaching environment in our institutions across the UK.
Notably this year, Covid-19 has had a particularly disruptive impact on PostDocs and research teams across the partnership. So we asked you to join us in saying thank you to them for facing the challenges experienced this year, and for stepping up to support the collective fight against Covid-19. Click here to take a look at some of the ways that our partner universities offered their support to the cause.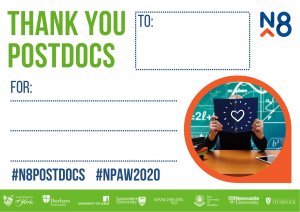 Postdoctoral researchers make up a crucial part of the research and academic body in our universities. Nurturing and developing this talent is vital to generating new knowledge and innovation throughout the Northern universities of the N8 Research Partnership, and encouraging future generations of researchers in the Northern Powerhouse. We wanted to highlight the diversity within our postdoc population and the vast range of contributions they make to ensuring that the N8 is a vibrant and successful research powerhouse in the North of England.
Here are some of our #N8PostDoc 'thank you's' from research teams across the N8 partnership this year:





From all of us @LivUniAcademy – a huge shoutout to the @UoL_RSA liaison members whose shoulders upon whom the RSA stands 🤗 @drjanetteg @AshkanELIASY @CCooijmans @njbeesley @DrSArrowsmith @DrAlisonSavage @HelenCauldbeck & more#N8Postdocs#NPAW2020@UK_NPAW@N8research pic.twitter.com/DDx1KP5Etp

— LivUni Research Staff (@LivResearcher) September 25, 2020
Taking the time to appreciate a very important postdoc in our lab @LouisaDever who is always so happy, positive, enthusiastic & willing to help (even though she hates all this fuss)! #NPAW2020 #N8Postdocs #LovePostdocs @LivUniISMIB pic.twitter.com/EegmUlIiwh

— Jade Waller (@Jade_L_Waller) September 23, 2020
A big shout out to the Partridge group postdoc Antonio @RomeroArenas1 who joined us in February. You've done great work so far, and shown remarkable resilience during lockdown. @SheffieldChem #BoronNotBoring #NPAW2020 #N8POSTDOCS pic.twitter.com/QBn8iE1daz

— Ben Partridge (@BoronChem) September 25, 2020
Happy National Postdoc Appreciation Week to postdocs in the D'Sa Lab. Big thanks to Jenny Hanson @AveyardJenny who has been there from the beginning and been a partner on all the research in the lab #N8postdocs #npaw2020 @livunieng @ProsperPostdoc pic.twitter.com/Js3snDIrIf

— Raechelle D'Sa (@raechelledsa) September 25, 2020
The members of the Plant Nematology Lab would like to show our appreciation and say a big 👏Thank You 👏 to our post docs Catherine and Chris for the continual wisdom, support and cakes they provide to all of the research group #NPAW2020 #N8Postdocs pic.twitter.com/wa7KSBAfhq

— Urwin Lab Leeds (@UrwinLab) September 22, 2020
Did you know that this week is National PostDoc Appreciation Week 2020? This year, more than ever, we would like to say a HUGE thank you and well done to all of our PostDocs. Each of you has gone above and beyond 💜 [A thread] 1/4 pic.twitter.com/CRIP7AyYqn

— Durham University (@durham_uni) September 21, 2020
Shoutout to our @DessentLab postdoc Jacob! @ChemistryatYork #NPAW2020 #N8POSTDOCS pic.twitter.com/8P6j9xtXA4

— Dessent Lab (@DessentLab) September 22, 2020