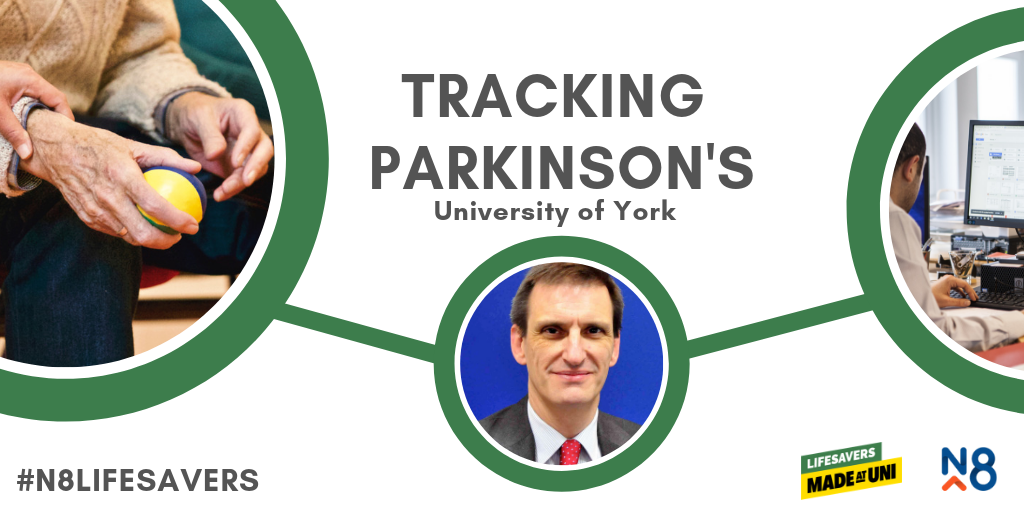 York team develop medical devices to accurately measure the progression of Parkinson's plus side effects of medication.
Professor Stephen Smith and his team have developed the LID-Monitor and PD-Monitor. These have the potential to greatly improve the quality of data medical staff can access when prescribing medication or assessing the progression of the condition.
The project arose from a collaboration with specialists from Leeds General Infirmary and Heriot-Watt University who have provided clinical expertise and machine learning technology respectively.
The LID-Monitor consists of six small devices, worn by the subject in their own home for a 24-hour period. The sensors track their movements continuously throughout the day, after which the data is uploaded for analysis and subsequently used in the management of their medication. The monitor reduces the need for a visit to hospital, which can be difficult for those living with Parkinson's.
The PD-Monitor uses a simple finger tapping task, which is a standard test for people to take when clinicians are assessing the progress of the condition. The monitor gives medical staff highly accurate, consistent readings, and is being trialled in hospitals across the UK and medical centres worldwide.  PD-Monitor is also being used in a nationwide clinical trial to assess the effectiveness of statins in slowing the progress of the Parkinson's.
"I've found working with people with Parkinson's the most fulfilling aspect of my research – hoping to help improve the prospects of living with this devastating condition"

"The thing that amazes me most of all is how committed and helpful my collaborators have been in helping me to get this technology to the people living with Parkinson's"

Professor Stephen Smith
Following the award of an Enterprise Fellowship in 2013 by The Royal Academy of Engineering, Professor Stephen Smith was afforded time from academic duties to focus on the development and commercialisation of the research through a spin-out company, ClearSky Medical Diagnostics. This company has now brought the revolutionary technology to people with Parkinson's in the UK and China.
Made at Uni, following on from their launch campaign highlighting the impact universities have had on people, lives and communities, released their brand new campaign, 'Lifesavers' in May 2019. This campaign highlights 100 universities across the UK who are saving lives and keeping us healthy through key research.