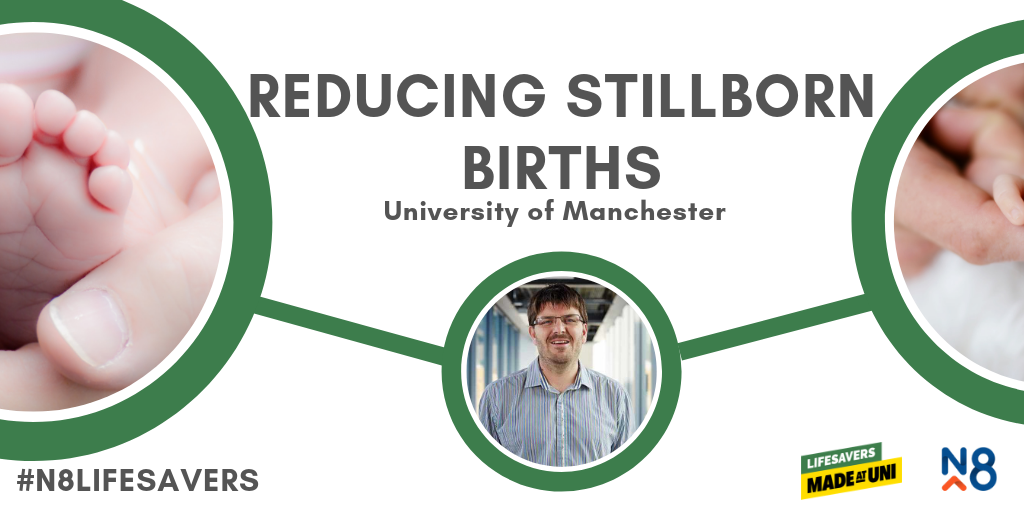 The team behind improvements in care driven by research at Manchester has seen the number of preventable stillborn babies drop 20% across the city since 2011.
Manchester is home to one of the only dedicated stillbirth research centres in the world, bringing tangible benefits to the region and beyond. Professor Alex Heazell and his team at the Tommy's Stillbirth Research Centre at The University of Manchester are at the forefront of this innovative research. Their aim is to achieve a 50% reduction by 2020.
This work is creating tangible benefits to society, already resulting in a 19% reduction in the number of stillborn babies at St Mary's Hospital in Manchester, where the research takes place.
His team's work has led to a major nationwide study to assess whether giving women information about reduced fetal movement and performing appropriate tests can help prevent stillbirths. And with support from the Mitchell Charitable Trust, Professor Heazell and his team have explored whether the opposite – increased fetal movement – could be linked to stillbirth.
This has resulted in a set of clinical guidelines for maternity health practitioners, identifying warning signs that might require intervention. The team also completed a study of more than 1,000 women which found that going to sleep on your back increases the risk of stillbirth after 28 weeks of pregnancy.
About one in 225 pregnancies in the UK ends in stillbirth and the research concluded that about 130 babies' lives a year could be saved if pregnant women go to sleep on their side.
"There are still a lot of misconceptions around stillbirth. Many people believe there must have been something wrong with the baby in the first place. But in fact, one-third of stillbirths in the UK are babies that are born after over 36 weeks with no abnormality at all."

"People believe that stillbirth is just one of those things and there isn't anything we can do about it. But this simply is not the case."

Professor Alex Heazell
Thanks to the University's strong history in pregnancy research, coupled with the city's diverse population, Manchester is well-placed to continue preventing the tragedy of stillbirth on a global scale.
Made at Uni, following on from their launch campaign highlighting the impact universities have had on people, lives and communities, released their brand new campaign, 'Lifesavers' in May 2019. This campaign highlights 100 universities across the UK who are saving lives and keeping us healthy through key research.