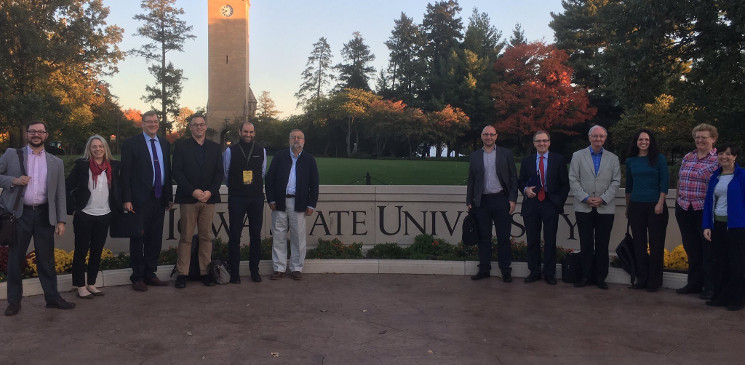 Representatives from N8 AgriFood have showcased the North of England's key research and innovation strengths at a world-leading conference on global agriculture- the Borlaug Dialogue International Symposium, in Iowa, U.S.
The 2017 Borlaug Dialogue, held in Des Moines, brought together leaders from across the agriculture and food industries, with delegates gathering to discuss the most critical issues facing global food security.
Every year, the conference attracts over 1,200 people from more than 65 countries to address cutting-edge issues related to food security and nutrition. The three day conference, from 18th– 20th October, aims to build international alliances in the struggle against world hunger and malnutrition.
The N8 AgriFood team formed part of a larger UK delegation that was invited to present at this year's conference.
Professor Steve Banwart, N8 AgriFood's lead for resilient supply chains and Dr Claire Quinn, from the University of Leeds, promoted the North's compelling research strengths during the side event 'Translating Research into Farmers Benefits'.
The event, co-hosted by the UK Science and Innovation Network and 2Blades Foundation, invited guests to hear about new international initiatives that will take products of ground-breaking research directly to the farmer.
Professor Banwart, of the University of Leeds, said: "This was an outstanding opportunity to showcase to the rest of the world the research and innovation strengths within the North of England.
"Through the collaboration of N8 universities and with the support of the Science and Innovation Network, the N8 AgriFood programme provides a tremendously attractive UK partner for joint research and commercialisation opportunities overseas."
During their visit to the U.S., the N8 AgriFood team have met with researchers from the University of Minnesota and Iowa State University College of Agriculture, as part of a drive to boost its international partnership building strategy.
The delegation is also set to attend the World Food Prize Laureate award ceremony. The 2017 laureate is Dr Adkinwumi Ayodeji Adensina, the President of the African Development Bank (AfDB).
The N8 AgriFood Resilience Programme is part of the N8 Research Partnership, a collaboration body for the eight most research-intensive universities in the North of England. N8 AgriFood was created to tackle the challenges facing the future of food systems in a collaborative, multidisciplinary and innovative approach.