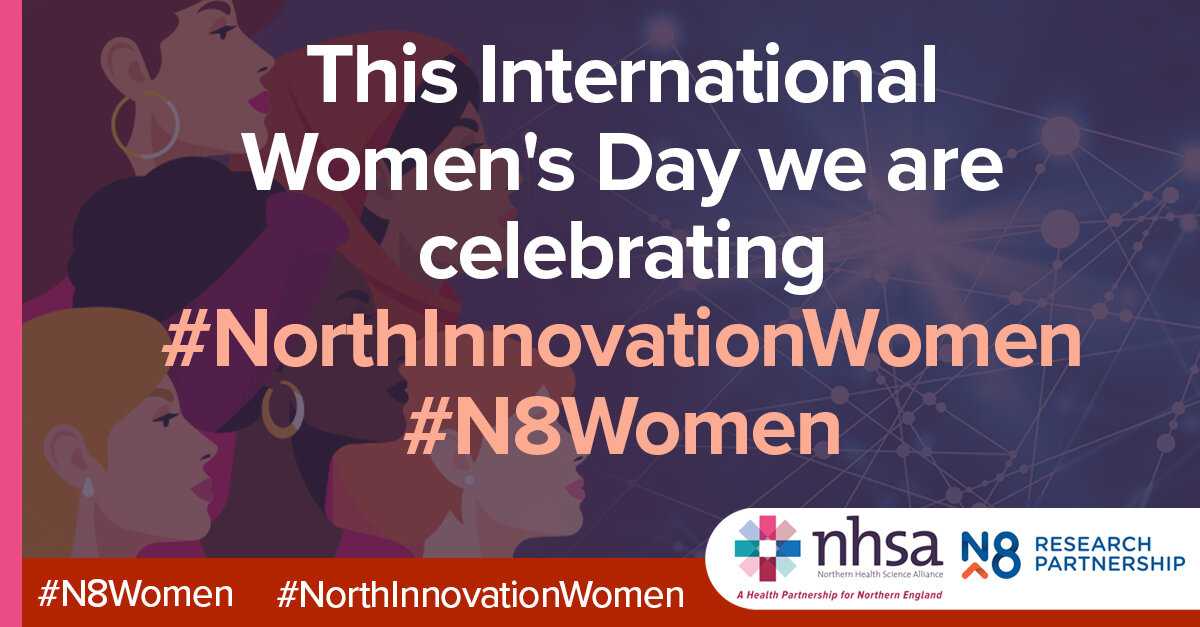 Innovative women across the North of England will be celebrated once again as the #NorthInnovationWomen campaign returns for a sixth year. 
The Northern Health Science Alliance (NHSA) and the N8 Research Partnership have teamed up to launch the social media campaign, which shines the spotlight on women who are pushing the boundaries of innovation within their fields. 
First launched by the NHSA in 2018, #NorthInnovationWomen has been embraced by people throughout the North of England with hundreds of women included on the annual list which is published on March 8 to mark International Women's Day. 
Today, the NHSA and N8 Research Partnership are calling on Twitter users to share their suggestions of women making their mark in the world of innovation who they believe should be included in the 2023 list. 
We want to hear about all the incredible women achieving great things and inspiring those around them across the North of England. 
The suggestions will be collated over the next few weeks with the final #NorthInnovationWomen 2023 list published on International Women's Day. 
There are no strict criteria or voting systems – #NorthInnovationWomen provides an informal and supportive platform to allow women to be acknowledged and celebrated by friends, family, colleagues or those who would just like to recognise excellence in another. 
All we ask is that a few simple guidelines are followed when making suggestions for this year's list. 
To tell us about your #NorthInnovationWomen recommendations, you must follow the below steps on Twitter for your suggestion to be counted: 
Use the hashtag #NorthInnovationWomen 
tag/name the person you want to recommend 
list their name, role, institution and why you're nominating them (or as much information as you know/can fit into your tweet). 
All suggestions must be made by Wednesday March 1, 2023. The full list will be published on the NHSA and N8 Research Partnership's websites on International Women's Day, on Monday March 8. 
Hannah Davies, Health Inequalities Lead/ Head of External and Public Affairs at the NHSA, said: "We are immensely proud of how North Innovation Women has captured the hearts and minds of people across the North over the last five years.  
"It is a privilege to see a snapshot of some of the brilliant achievements of women in our region and we hope that even more deserving women will be recognised as part of this year's campaign. 
"The NHSA is committed to supporting and celebrating equality and inclusivity in all forms, and we look forward to standing with people across the world on March 8 to celebrate women's achievements." 
Dr Annette Bramley, Director of the N8 Research Partnership, said: "Right across the North of England we are surrounded by innovative women from all places, sectors and backgrounds. #NorthInnovationWomen is an opportunity to put those women in the limelight and celebrate some of the ground-breaking work being achieved across the region.   
"In its sixth year, we are hoping to smash perceptions about who can innovate. We hope many will join us in nominating those women who are inspiring the next generation of female innovators." 
International Women's Day is a global day celebrating the social, economic, cultural and political achievements of women – while also marking a call to action for accelerating gender equality. The campaign theme for International Women's Day 2023 is #EmbraceEquity. 
Read more about #IWD2023 and how to get involved at: https://www.internationalwomensday.com