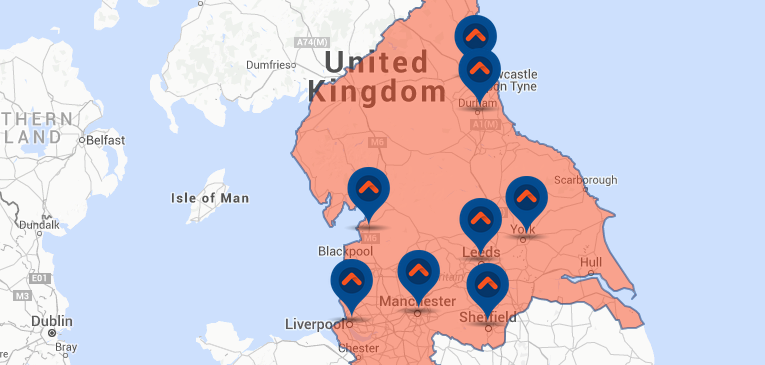 N8 Research Partnership universities are again to have access to a High Performance Computing facility following the announcement of a multi-million pound award from the Engineering and Physical Sciences Research Council, part of UK Research and Innovation.
Based at the University of Durham, the new £3.15m Northern Intensive Computing Environment (NICE) will provide a shared facility for academic and industry researchers for all of the N8 universities, shared on an equal basis with each paying towards its operation, while also allowing access to the EPSRC-supported UK-wide community. The announcement is one of seven HPC centres to be supported by a £27 million investment from EPSRC.
The Tier-2 supercomputing services will provide researchers with invaluable access to powerful systems to support ground-breaking work in areas ranging from Artificial Intelligence (AI), energy storage and supply and therapeutic drug design.
The N8 Research Partnership is the collaboration body for the universities of Durham, Lancaster, Leeds, Liverpool, Manchester, Newcastle, Sheffield, and York, and aims to maximise the impact of this research base to enable business innovation and societal transformation.
N8 universities previously operated Polaris, based at the University of Leeds, which was decommissioned in 2018. N8 subsequently established the Centre of Excellence in Computational Intensive Research (N8CIR) which will continue to work on the training and up-skilling of N8 researchers while also being responsible for operating the new supercomputer. N8's previous computer Polaris saw a total of 90 companies working with N8 academics using N8 HPC for collaborative academic research, leading to the creation of more than 30 industry-related PhD studentships. N8 HPC also featured in 76 grant applications, with a value of over £60m, and 377 research papers published have referenced its use.
The new service will use the same technology as that used in the current leading supercomputers in the world, but on a smaller scale. The technology has been chosen with the aim of supporting a combination of experimental users and modellers using machine learning, and in bringing the two communities together.
This will mean that machine learning can be better used to analyse the vast data sets now being generated by experimentalists through, for example, national facilities such as Diamond and the Henry Royce Institute and international facilities such as the European Synchrotron Radiation Facility.
This approach will enable scientists to, for example, advance the imaging techniques necessary to produce the next generation of X-ray instruments and to develop the next generation of students working with deep learning techniques at the interface of algorithms and High Performance Computing.
Durham University also hosts the Science and Technology Facilities Council DiRAC Memory Intensive Supercomputer (COSMA). NICE will be co-located with the DiRAC facility in Durham.
Professor Colin Bain, Vice-Provost (Research) at Durham University, said: "Durham is already an international centre for supercomputer technology, hosting the COSMA supercomputer, which is at the forefront of research that is unravelling the mysteries of the universe. Our expertise in supercomputers is well-established and we are delighted to host the NICE service, on behalf of the N8 Research Partnership, which will underpin advances in the application of machine learning to the analysis of experimental data."
Professor Dame Lynn Gladden, EPSRC Executive Chair, said: "Computation is becoming an ever-more important scientific tool, be it for analysing large data sets generated from experimental work or modelling situations which can't be replicated in experiments.
"These High Performance Computing services will give researchers access to the tools they need to make breakthroughs in a wide range of fields that impact on how we live our lives.
"These include heterogeneous catalysis – modelling chemical processes which contribute to the production of items used in everyday life – understanding the performance of materials for better batteries for electric vehicles and other energy storage applications, and using advanced computational drug design for therapeutics targeting a large variety of health conditions."
Professor Matt Probert, director of N8 CIR, who is based at University of York, said: "The announcement of this new facility will help computational research thrive across the N8 community and beyond. It has a novel architecture which has been chosen to accelerate machine learning and image processing capabilities, which underpin many and new exciting research ideas in many different fields.
"Tier-2 HPC services are a significant feature in the UK's landscape of research and innovation infrastructure. Together with the national Tier-1 service, the network of Tier-2 services act as a distributed national resource that provides a diverse range of expertise and technological capability. Collectively, Tier-2 services act as the interface between the highest capability national and international HPC services and underpinning layer of local computing provision in universities."
Dr Annette Bramley, director of the N8 Research Partnership, said: "Many people across the N8 have worked very hard to bring this, one of its kind in the UK, high performance computing facility to the Northern Powerhouse and we are delighted with this award.  High performance computing facilities play a key role in enabling multidisciplinary computational science, building software engineering expertise and supporting business-led innovation. By investing in NICE, we are ensuring the Northern Powerhouse has access to state of the art technologies to begin levelling-up the regional research and innovation infrastructure."