Durham University has launched a new ten-year Strategy, aimed at ensuring it continues to deliver world-class research, education and student experience.
Having recently clarified its future size, shape and mission through a series of major decisions, the University is proposing to invest £700 million over ten years in its people and its digital and physical infrastructure.
As part of this investment, and to mark the launch, the University has announced major new funding for PhDs and post-doctoral research. An extra £2.8 million of support will be available each year, under a scheme titled the Chancellor's Scholarships.
Among the other key proposals are:
To further develop the University's excellence in research, allowing for greater positive impact on global, national and regional challenges and greater benefit to culture, society, health, the economy and the physical environment;
To invest in the University's students, with a new Centre for Teaching and Learning and an Education Laboratory, where new education techniques will be developed;
To further enhance the student experience by building a new facility for Durham Students' Union, improving sports facilities at Maiden Castle and developing new colleges, ensuring more students live in college accommodation;
To internationalise the University, with more staff and students from overseas, the opening of an International Study Centre and strengthened links with peer institutions around the world;
To deliver a world-class estate, including new academic and residential facilities and refurbishment of existing facilities.
These add to other Strategy proposals announced previously, including the repurposing of Queen's Campus in Stockton, in part as an International Study Centre, and the transfer of the School of Medicine, Pharmacy and Health to Newcastle University.
Professor Stuart Corbridge, Vice-Chancellor of Durham University, said: "Durham University's future is bright. We attract wonderful students from all around the world and we are ready to embrace change.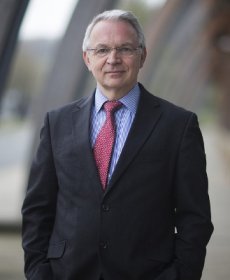 "Through our Durham University Strategy 2017-2027, we will deliver world-leading and world-changing research across all our academic departments and institutes; education that is challenging, difficult, enabling, research-led and transformative; and a wider student experience to rival the best in the world.
"We will build a stronger faculty, improve our estate, enhance our education offer and make our professional services more efficient.
"It is a very exciting time to be part of, or indeed connected to, Durham University – and, as we launch our new University Strategy 2017-2027, my invitation is: partner with us. Together, we can be so much more."
Durham University Strategy 2017-2027 was developed from 2015 onwards, under the leadership of Professor Stuart Corbridge, and was the product of comprehensive consultation with staff, students and other stakeholders. It has been approved by the University's governing body, Council.
Launch events were held at Spitalfields, London, on Thursday 18 May and at Durham Castle on Monday 22 May.
Robert Gillespie, Chair of the University Council, said: "Our new University Strategy 2017-2027 is an ambitious yet detailed vision of how we want the University we love and treasure to grow and develop, so that it is sustainable, pioneering and transformational in all areas for decades to come.
The University currently has 17,500 students and employs around 8,800 staff. A recent report* revealed it is worth £1.1 billion a year to the UK economy and supports 13,660 jobs; acts as an anchor for established businesses and a magnet for new investment; and plays a key role in supporting heritage and tourism.
For every £1 the University receives, it generates £3.21 for the economy and Durham graduates add nearly £300 million a year to the UK economy as a result of having studied at the University.