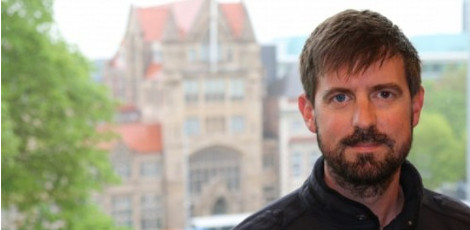 Dr Geoff Pearson, Senior Lecturer in Criminal Law at the University of Manchester, has been appointed as the new Academic Co-Director of the N8 Policing Research Partnership.
Dr Pearson has been involved with the N8 PRP for several years, as co-lead on the Innovation Forum activity strand and has worked on N8 funded research projects including leading on the ENABLE project, which developed an understanding of effective policing responses to crowd events.
Dr Pearson will be working with a soon to be appointed Policing Co-Director to lead the N8 PRP into its next stage of development and assumes his role following the decision of the inaugural Director, Professor Adam Crawford of the University of Leeds, to stand down after leading the partnership over the last seven years since its inception.
Under Professor Crawford's leadership, N8 PRP's work centred on partnership formation and the development of a robust infrastructure around which opportunities for knowledge exchange and research co-production between policing and academic partners can be realised. This has had significant impact on organisational policies and professional practices in police forces via knowledge exchange, data mobilisation and research co-production, and has played a role in informing changes to frontline strategies. Professor Crawford also secured the transition to a co-governance and co-funding model for the partnership with the end of the Catalyst Grant which has underpinned the work of N8 PRP over the last five years.
In his new role, Dr Pearson is to oversee this new phase in the evolution of N8 PRP. The vision for this includes an expansion in the collaboration between academics and policing partners with an ambition to consolidate the activity into a centre of excellence in Policing Research and Innovation, which will deliver new knowledge and evidence that impacts operational policing.
Dr Pearson said: "As N8 PRP moves to its next stage, my aim is to ensure the partnership continues to deliver opportunities for researchers in the N8 Universities and a rigorous evidence-base to help develop policy, strategy, and tactical responses for police forces across the North of England and beyond."
Professor Crawford said: "It's been a huge privilege for me to lead the N8 PRP from its inception, building new relationships and fostering collaborations. It now stands as a leading police/academic partnership that is helping drive forward real change and innovation in the policing sector. I'm very proud of what we've achieved in the past seven years, and I am confident that the importance and value of the partnership's work will increase under the new leadership team."
N8 PRP was established in 2013 to enable and foster research collaborations that will help address the problems of policing in the 21st century and achieve international excellence in policing research. It is a platform for collaborations between universities, police forces, Police and Crime Commissioners, government and other partners working in policing policy, governance and practice.