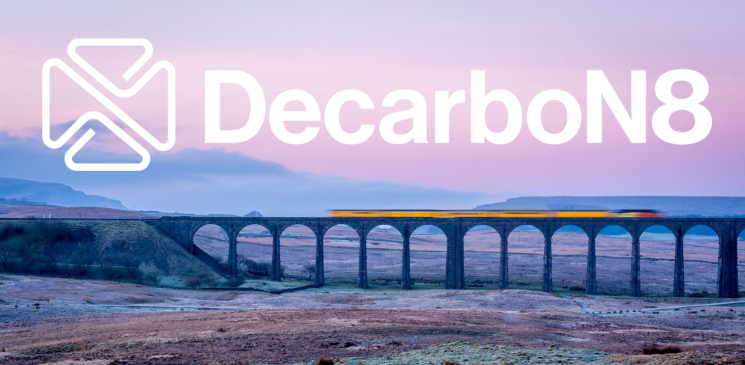 Register now for the launch of the DecarboN8 Research Network on 25 November.
The UK Government has committed to reducing climate change emissions to 'Net Zero' by 2050. This is a huge challenge for the transport sector, which accounts for over a quarter of UK domestic greenhouse gas emissions and has not managed to reduce its emissions over recent years. The DecarboN8 network will bring together researchers, industry and government to designing solutions which can be deployed rapidly and at scale, and we're launching the network on 25 November in Leeds.
DecarboN8 is led by the N8 universities, who are working with local, regional and national stakeholders to create an integrated test and research environment across the North where researchers from elsewhere in the UK and globally can study the decarbonisation challenge at these different scales.
We are developing answers to questions such as:
How can different places be rapidly switched to electromobility for personal travel? How do decisions on the private fleet interact with the quite different decarbonisation strategies for heavy vehicles? This requires integrating understanding of the changing carbon impacts of these options with knowledge on how energy systems work and are regulated with the operational realities of transport systems and their regulatory environment; and
What is the right balance between infrastructure expansion, intelligent system management and demand management? Will the embodied carbon emissions of major new infrastructure offset gains from improved flows and could these be delivered in other ways?
Be the first to hear more about the DecarboN8 Network.
Sign up to the newsletter to receive regular updates about our research, programme of events, and upcoming funding opportunities.
Register here for the launch event on 25 November.
We want to encourage a diverse range of participants to attend this event. Please let us know if you have any accessibility or dietary requirements.
Over the next few weeks further details including a detailed programme for the day will be published.
Programme
1000 – 1030 Registration and Refreshments
1030 – 1040 Welcome and Opening Address
Councillor Lisa Mulherin: Executive Board Member for Climate Change, Transport and Sustainable Development, Leeds City Council
1040 – 1135 Part 1: Carbon and the North
1040 – 1055 The DecarboN8 Ambition – Greg Marsden
1055 – 1110 Carbon Pathways for the North, Transport for the North
1110 – 1135 Panel Discussion: Carbon Ambition for the North
1135 – 1230 Part 2: Place-based decarbonisation
1135 – 1150 Place Based Decarbonisation – Local Authority
1150 – 1205 Place Based Decarbonisation – Industry
1205 – 1230 Panel Discussion: Societal Readiness
1230 – 1330 Lunch
1330 – 1430 Agenda-setting Workshops Round 1 – Place Based Discussions
1430 – 1440 Refreshments
1440 – 1540 Agenda-setting Workshops Round 2 – Building an Effective Network
1540 – 1610 Closing Plenary with Keynotes from:
Committee on Climate Change
Department for Transport
1610 – 1615 Close