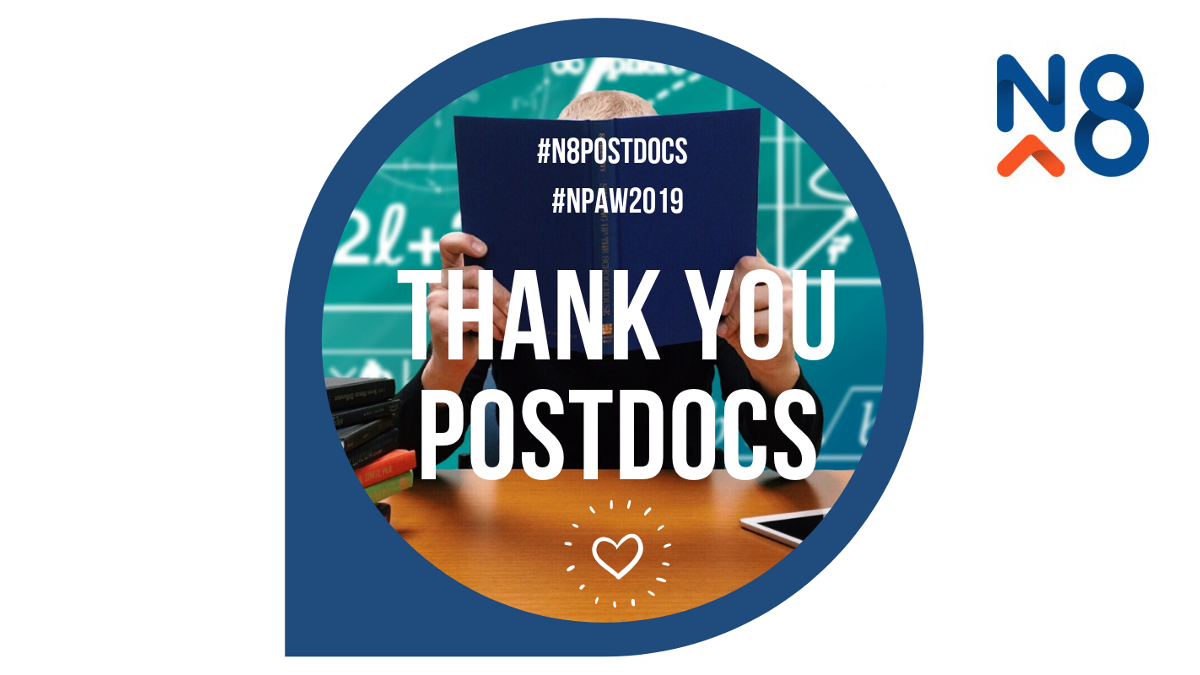 From 16th – 20th September, we celebrated 'National Postdoc Appreciation Week'.
The N8 universities took part in this national event, a great opportunity to recognise and thank our postdoctoral researchers for the significant contributions that they make to the research and teaching environment in universities across the UK.
Postdoctoral researchers make up a crucial part of the research and academic body in our universities.  Nurturing and developing this talent is vital to generating new knowledge and innovation throughout the universities of the N8 Research Partnership and encouraging future generations of researchers in the Northern Powerhouse.  We want to highlight the diversity within our postdoc population and the vast range of contributions they make to ensuring that the N8 is a vibrant and successful research powerhouse in the North of England.
So from 16-20th September we launched our #N8PostDocs campaign on Twitter, take a look to see how our N8 universities got involved!
A big thank you to Marietta this week during post doc appreciation week #N8POSTDOCS #NPAW2019 pic.twitter.com/Tl0W6mqtdt

— Tuplin Lab Leeds (@Tuplin_Lab) September 20, 2019
Thank you @colleenmann194! My first PhD student, and now working as an @RoyceSheffield Fellow, my group would quite simply fall apart without her. She's not bad at nuclear waste glass corrosion science either 😉 @msesheffield @ISL_Sheffield #N8postdocs #NPAW2019 pic.twitter.com/gRakipcnXR

— Dr Claire Corkhill (@clairecorkhill) September 20, 2019
Sorry we haven't been able to individually thank all of our Postdoctoral Researchers (here known as Research Associates & Senior Research Associates) this week, but this is to all of you 💌💕

So many astounding Post Doctoral Researchers,
Too little time! #NPAW2019 #N8PostDocs pic.twitter.com/7YspbxMjTs

— Lancaster Environment Centre (@LancsUniLEC) September 20, 2019
From all of us @LivUniAcademy, but especially from me personally – a huge shoutout to @SarahArrowmith, @njbeesley,@DrAlisonSavage & @MJ_Monaghan of the @UoL_RSA who inspire me everyday with their hard with and dedication. Thank YOU 🥳#NPAW2019#LovePostdocs #N8PostDocs pic.twitter.com/xXFzLIyzob

— Dr Saneeya Qureshi (@SaneeyaQ) September 20, 2019
See hundreds more by following the hashtag, #N8PostDocs