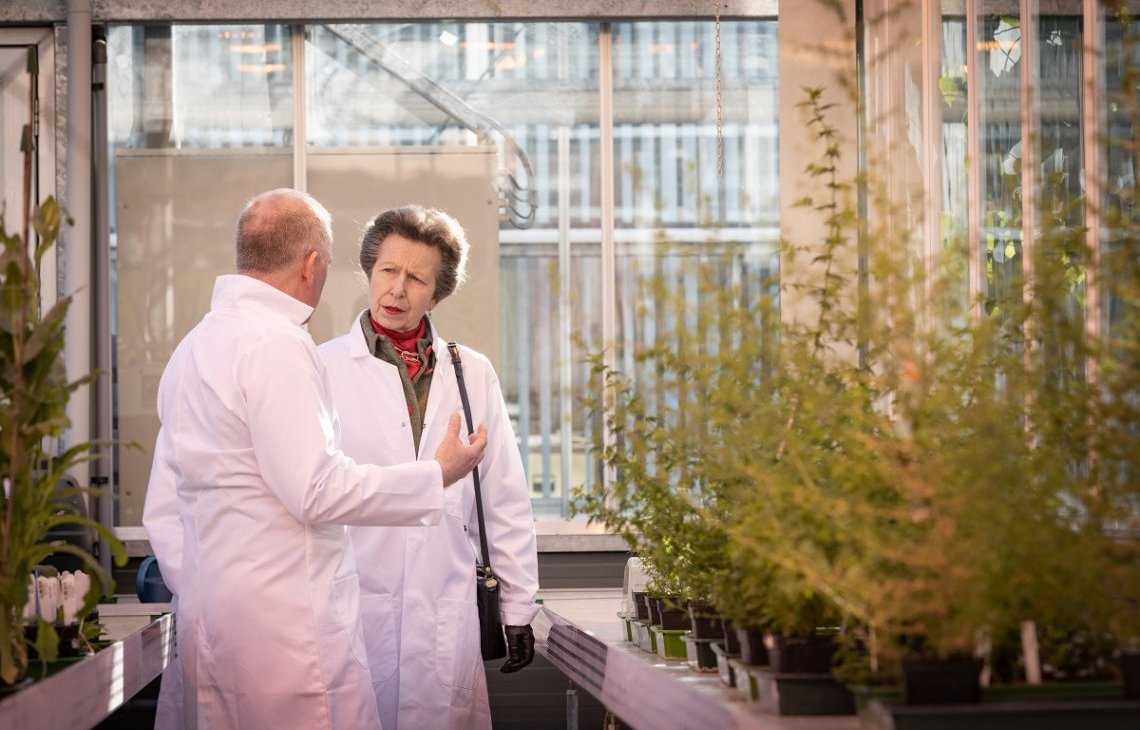 Princess Anne was guest of honour at the official launch of University of York's new bioeconomy initiative, BioYork.
The project, BioYork, has been established as a focus for bioeconomy activity in the North of England as part of an interdisciplinary approach to research into health, food and bio-based fuel and chemicals.
The Princess Royal's visit included meeting senior University staff involved in the initiative as well as touring the research facilities, including the glasshouses. The launch event was headed by Professor Katherine Denby, Academic Director for N8 AgriFood.
She said: "The Feed theme of BioYork harnesses expertise in crop and soil science with innovative businesses in the bioeconomy to tackle the challenge of how to sustainably feed our growing population.
"The challenge for industry is to develop and implement new agri-food systems that prevent soil degradation, increase soil carbon and maintain healthy soils; and to develop new technological solutions to enhance crop growth whilst minimising the environmental footprint.
"Industry needs to tackle the challenges that arise from climate change – and develop new resilient varieties of crops more quickly, and biological solutions to reduce crop waste that do not rely totally on chemical control.
"The challenge for the food industry is in enhancing the nutritional quality of crops and maintaining that nutritional quality throughout the supply chain, through to processing to the consumer.
"BioYork is working with industry to deliver commercial solutions to these challenges – exploiting our scientific knowledge, expertise and facilities and connecting companies with the newest ideas and techniques.
"We have used comparative genomics, transcriptomics and data modelling to tackle barriers to crop improvement.
"Initiatives such as BioYork, and N8 AgriFood are working to growth the food-related bioeconomy in the UK, provide a smarter agri-food system and feed our global population sustainably."
The bioeconomy is estimated to be worth £220 billion in the UK alone, and the Government's Industrial Strategy is setting ambitious targets to double its size by 2030. Projects like this will be fundamental in supporting this growth and development.