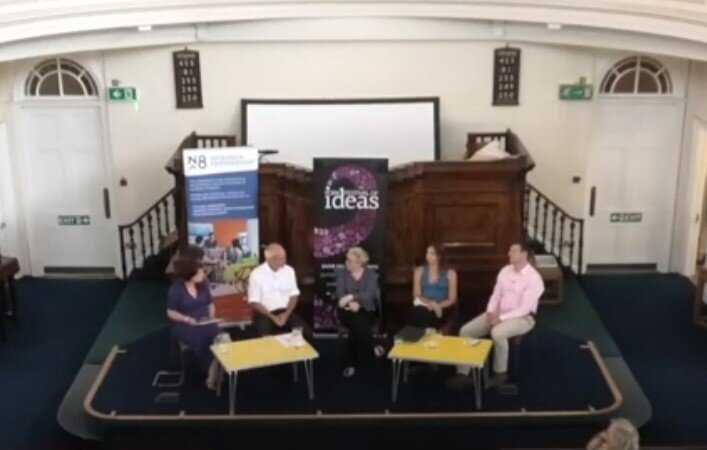 The inaugural UP North event took place at the York Festival of Ideas on 15th June and examined the need for a new approach to urban regeneration through inclusive growth and by harnessing the power of tools such as devolution and social enterprise to deliver more equitable and inclusive economic outcomes for all 

The 2023 Festival of Ideas was aimed at helping us rediscover our shared humanity, reimagine the cornerstones of our society and rebuild a shared socio-economic contract, both locally and globally. The programme featured more than 150 talks, panel discussions, performances, family-friendly activities, and more. 
This year's Festival coincided with the 60th anniversary of the University of York, an institution founded with a robust social purpose and which was pivotal in the Festival's own genesis more than a decade ago. The University leads the Festival and both share an unwavering commitment to the public good. 
The first event in our UP North series, which is being delivered in partnership with the Royal Society of Arts, was chaired by Jennifer Williams, Northern Correspondent of the Financial Times. The panellists were: 
Professor Charlie Jeffery, Chair of the N8 Board & Vice-Chancellor and President, University of York 
Joanna Pollard, Project Lead eBay for Change, Social Enterprise UK 
Ellie White, Students Reinventing Cities Project Officer, C40 Cities 
Andrew Farrimond, Sector Head for Infrastructure, Aviva Capital Partners 
In her introduction, Jennifer outlined that hosting the first UP North event in York and examining the role education, social enterprise and business has to play was particularly timely, as North Yorkshire gears up for its first devolution deal. 
Charlie Jeffery kicked off the discussion by discussing the role universities can play in economic regeneration: "Firstly, we undertake research that opens up new technologies and their applications which – in turn – results in new economic activity. Secondly, we educate students who become graduates who take that insight from our research into their careers. Thirdly, we convene. We bring people together. And when that works, you have a recipe for economic regeneration." 
Charlie then touched upon transformative changes that are currently on the agenda for York, such as devolution. Charlie reflected on the opportunities that could be on the horizon if a new Mayor seizes the agenda in the same manner that Tracy Brabin in West Yorkshire, Andy Burnham in Greater Manchester, or Andy Street in the West Midlands have done in their respective regions. 
"So, how do we take those opportunities? It's about innovation. It's about harnessing emerging technologies, which can generate an anchor here in York for a wider network of innovative clusters of economic development across the region. This is an old railway town, but it's now actually at the heart of AI led rail tech." 
Charlie added: "The UK economy is hobbled by a North-South divide in public and private investment and productivity. Devolution is beginning to decentralise resources and leadership – we can use that to build from the ground up. If we can empower local and regional development partnerships around our universities, then we're going to have a better chance to narrow that North-South gap. That will benefit the whole of the UK, not just the North." 
Joanna Pollard then discussed her work at Social Enterprise UK, noting that there are around 100,000 social enterprises in the UK, that put approximately £60bn into the economy and employ two million people. One of the characteristics of a social enterprise is that they commit by law that all their profits have to go into their social mission. 
One such social enterprise is a C40, network of almost 100 mayors from the world's leading cities that are taking urgent action to combat the impacts of the climate crisis. Ellie White explained how her organisation's framework could be used as an example of how to bring together different voices from civil society, city governments and businesses to develop ways to reimagine urban sites to benefit the environment, and the people that live there. 
"One of our programmes involves students reinventing cities, which is what I specifically work on," Ellie explained.  "A city will identify a site that they would like to reimagine, and students across the world come together to develop proposals and ways to redevelop that site. To date, we've had 28 cities participate, over 200 universities and 2,000 students across the globe." Ellie also detailed the Schools Reinventing programme that sees school children use Minecraft to reimagine public spaces.  
Jennifer then posed the question of whether we actually need to reimagine our cities – and if so, why and where should we be looking for inspiration? 
"There is a need to rethink the model that's currently in place through this lens of being a citizen or resident or visitor on a very human scale," said Ellie. "The cities that we currently live in haven't been developed in a way that's on a human scale, and that are people-centred. It's about connectivity, both physically through cycle paths, pedestrianised zones, and digitally – how are areas connected to the virtual world?" 
"All cities have to renew themselves," added Charlie. "York was a much more industrial city few decades ago with the rail and chocolate industries. Those big factories of the past are now much smaller – you therefore have to do something to renew and to provide new opportunities.  
"We also renew in different ways as priorities change. Environmental sustainability wouldn't have been a central priority even a decade ago. It rightly is now, and I think we have to think very hard about how we renew that." 
One such example of how this can be achieved, suggested Charlie, is the BioYorkshire programme. This ten-year programme will accelerate the translation and application of research discoveries into full scale biotechnology applications. It will use the region's world class science base to deliver the profitable bio-based production of chemicals, materials, and fuels. The project will also support net-zero food production, farming and wider land use practices.   
"This gives us the opportunity to place the city of York and our partner institutions in it at the heart of regeneration, not just in the city economy, but the rural economy around it. That's a huge prize," he added. 
Andrew Farrimond then offered his view on how such prizes can be won from his perspective within the financial sector.
"There are some similarities across different cities – there are challenges with energy, retrofit, transport and affordable housing," he said. "However, you can't offer a one size fits all approach as there remain nuances and you therefore need to start the conversation earlier, and you need to be genuinely committed to then staying for the long haul and finding like-minded people across different sectors. While you need the local connectivity to people generally you also need connectivity between places to have a national sense of that growth rather than always being place specific." 
The discussion then moved on to specific examples of places that are already embracing change.  
"Take Plymouth," said Joanna. "There's a huge amount of social enterprises, and they're all connected with each other. As such, they form almost a decision-making bloc. So, they can come together and help each other and help the local authority and help all the other infrastructure that's going on in Plymouth. As there's a lot of Co-Op stores – which act as a sort of social enterprise – they're responsible for something like 25% of the city's economy, which is extraordinary. If other cities have the infrastructure to support each other this model can be replicated, and social enterprises can be a big part of other cities. 
One issue such cities will have to face is the balance between preservation and growth. Charlie shared his thoughts on the challenges currently facing York.  
"This is a city which hasn't had a local plan for 50 years," he said. "It might get one later this year, which will provide some level of planning guidance on a stable basis. So that says something about how difficult things have been in York. And one of the things that that York really lacks is housing, or at least housing that's affordable to those people who will be the future of our economy – the young.  
"I think one of the crucial things for us to think about in the coming years is how to change that situation. That will require us to build some new stuff, and to lose some of the allergy that we have to building new housing. I think it also requires us to think differently about how we regulate." 
"Thinking through the different elements of an area and where housing fits into that is totally essential at the design stage of any new project," said Andrew. "Another key element is embodied carbon. There's an architectural question of where's the value that you can generate from existing stock. It's important to think in terms of preserving architecture, blending it in with new and making sure that a place has a feel to it that that meets some of those stakeholder objectives. But you can't underestimate the harmful carbon footprint of pulling stuff down and building everything new." 
The main discussion was brought to a close with thoughts on what the North Yorkshire devolution deal would mean for the region.  
"As an initial framework the devolution deal does decentralise some resources, but not – at the moment – a huge amount. Some of those resources can be used to raise debt. So that means you can at least do some capital investment in important areas – and that's a real positive," said Charlie.  
"I think what we what we need to have as our aspiration is to use those initial powers and funding sources well, so that when further opportunities emerge down the line, it's a natural thing to think about how priorities that can be defined and delivered here can be pursued," continued Charlie. "It seems to be extraordinarily easy to produce a new 40-mile railway line in London, yet it's extraordinarily difficult to do it here between Manchester and Leeds." 
"Being able to have that focal point where people work out what they want, so that you can engage with it and have that as a partnership over time, I think is key," added Andrew. "I think the flip side to empowerment is around autonomy. How do we take what we've signed and run it over 30 years? The area is going to change, the ambition is going to change. It has to be a living relationship that's focused on a political structure rather than referring to back to what was in the deal when agreed." 
"Autonomy is a very good word," agreed Charlie. "When I say 'we' need to get it right it's not just the mayor. It's going to be the constituent local authorities, it's going to be the business sectors, which are important in this region. If we get it right, it will see the universities and colleges working in partnership." 
Before the session came to an end, the panellists took questions from the audience and were asked if one miracle could take place tomorrow that would help reimagine cities, what would that miracle be? 
Andrew: "I think changing the nature of engagement to improve the level of stakeholder buy-in would result in a sense of shared endeavour. I think this would really help unlock some of the more imaginative schemes." 
Ellie: "I'd love for more places around the world to embrace the 15-minute city concept." 
Joanna: "Universal basic services – housing, transport, utilities, all provided, ideally by social enterprise, so that nobody falls through the net." 
Charlie: "Construction of low-cost housing that remains low-cost and can't be flogged off for profit and can't be turned into Airbnbs." 
The event can be viewed in full on the York Festival of Ideas' YouTube channel. 

For more information on forthcoming events in the series, please visit our UP North page.