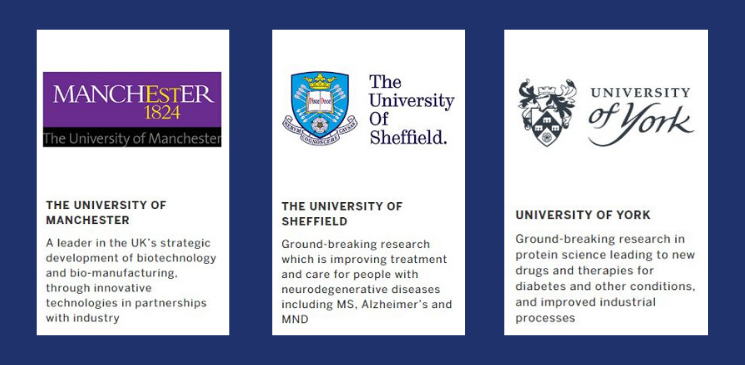 Three N8 Universities are among 22 of the latest recipients of the prestigious Queen's Anniversary Prize for Further and Higher Education.
The Universities of Manchester, Sheffield and York are already multiple winners of prizes which recognise outstanding work by UK colleges and universities showing quality and innovation while delivering real benefit to the wider world and public through education and training. The prizes are the highest national honour awarded in UK Further and Higher Education and are granted by The Queen every two years. There have been 275 different prize-winning entries since the scheme was launched in 1994.
The University of York, which has previously been awarded in 1996, 2005, 2007, 2009 and 2011 has been recognised for ground-breaking research in protein science leading to new drugs and therapies for diabetes and other conditions, and improved industrial processes.
The University of Sheffield's ground-breaking research to improve treatment and care for people with neurodegenerative diseases including MS, Alzheimer's and MND has been recognised. The university has previously won prizes in 1998, 2000, 2002 and 2007.
The University of Manchester has been recognised as a leader in the UK's strategic development of biotechnology and bio-manufacturing, through innovative technologies in partnerships with industry. Manchester has previously won prizes in 1994, 1996, 2011 and 2013. In total N8 universities have been recognised 28 times.
Dr Annette Bramley, director of the N8, said: "The Queen's Anniversary Prizes acknowledge and celebrate the outstanding work throughout the UK's FE and HE sector for the way it has a positive impact and benefit to society locally and nationally.
"Most importantly, to my mind, the prizes are also awarded across a wide range of disciplines and not just science and engineering, but also the arts and creative industries,  the humanities and the environment as well as education itself.
"The Queen's Prize is a real badge of honour and my congratulations to Manchester, Sheffield and York for their awards, which help further to highlight northern excellence in R&D and teaching and learning."