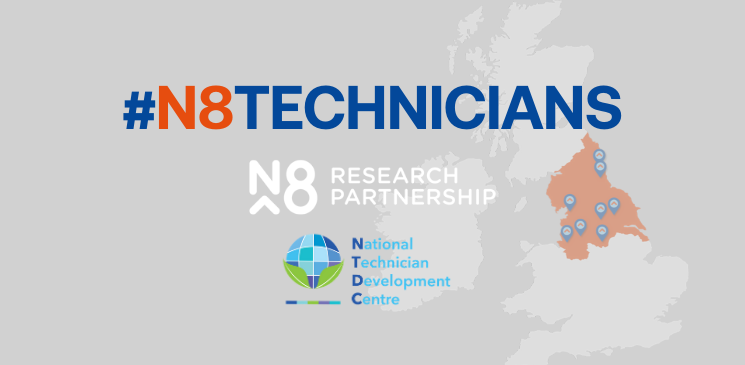 The N8 Research Partnership and the National Technician Development Centre launched a Twitter campaign this month celebrating our fantastic #N8Technicians.
We wanted to give a platform to our fantastic technicians across the north – individuals who play a vital role in research, to shout about and showcase the valuable work they do across the eight partnership universities: Durham, Lancaster, Leeds, Liverpool, Manchester, Newcastle, Sheffield and York.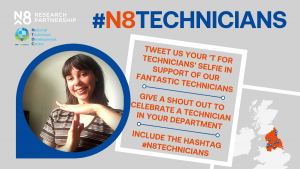 We asked technicians across the N8's northern universities to join our campaign by tweeting a photo, proudly holding up a 'T for technicians', and telling us about some of their brilliant achievements in their roles as technicians. We also asked wider university staff to join in, stand up and celebrate the hard work and contributions of their technical talent to our research teams.
Director of the N8 Research Partnership, Dr Annette Bramley said "Technicians across our universities are invaluable.  They help to drive forward our research and innovation programmes which benefit the economy and communities across the Northern Powerhouse. They have played a key role in our universities' responses to the Covid-19 crisis and maintaining crucial facilities during lockdown.  It's time for us to celebrate and thank our powerhouse of technical talent and by showcasing their skills and contributions."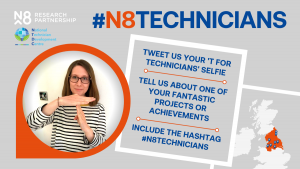 After recently joining the National Technician Development Centre as a Partner Affiliate, the N8 Research Partnership is looking forward to exploring ways to promote the resources available for technician development, and helping to create a sustainable future for our talented technical staff.
Dr Sara Bacon, Centre Manager of the National Technician Development Centre said "The NTDC are supporting the #N8Technicians campaign to promote the often overlooked value that technicians bring to research teams across the North. Without the dedicated support of technicians in laboratories, special facilities, design suites and many other areas, there would be no research and teaching. Technicians are massively important in all aspects of Higher Education and Research, and deserve this opportunity to celebrate their hard work."
Take a look at some of the fantastic tweets we received from technicians and their colleagues:
Here's Nick Goldspink, #N8Research Partnership Manager sharing his 'T for technicians' in support & celebration of the hard work technicians contribute in the north!
Keep your #N8Technicians tweets coming, we'll be featuring them next week on our website: https://t.co/y273g7ZPce pic.twitter.com/p4DntZaiDD

— N8 Research Partnership (@N8research) June 25, 2020
On behalf of the Technician Champions we want to say 'Thank You' to every member of the technical team @UniversityLeeds To find out what we do and see how varied our roles are watch https://t.co/sEUNaQ9SQV #N8technicians pic.twitter.com/XGiAWeWJH8

— Technically Speaking (@UoL_technicians) June 16, 2020
'T for Technicians' @N8research Embracing creative sound practice to share knowledge of marine conservation efforts. Recipient of the Pioneer Award @NCLcreativearts #N8Technicians @NclUniMusic pic.twitter.com/AGxyTCXt5s

— David de la Haye (@DJCdelahaye) June 15, 2020
#N8Technicians #n8 @UniofNewcastle

Printmaking Technician for 15 years at Newcastle University Fine Art! Proud to be part of the BEST team.

We are a passionate team and we love what we do. pic.twitter.com/vQAO5650C8

— erika servin (@erikaservin) June 17, 2020
For the past weeks I've been part of a team from @BiologyatYork & @HullYorkMed volunteering with the #NHS to support their covid testing doing manual RNA extractions and amplifications #N8Technicians @NTDCtweets @UofYTechs @UniOfYork pic.twitter.com/q1SilNeq90

— james fox (@jmf506) June 15, 2020
From dinosaur teeth to meteorites… a day in the life of an Earth Sciences #technician. 🦖☄️

Read Sophie Edwards' Technician's Story here 👉 https://t.co/w4MRZbErl9#DUinspire #N8technicians #TechniciansMakeItHappen #TechsCommit @TechsCommit @technicians_mih pic.twitter.com/oNiDiBb1it

— Durham University (@durham_uni) June 24, 2020
T for technicians! Supporting my students through mental health as well as practical support!! @N8research #N8Technicians pic.twitter.com/SvEAD3hsDa

— Heather Reeve (@BelleBella94) June 24, 2020
From apprentice to Teaching Lab Manager. Working on EDI project and proud supporter of apprenticeships #N8technicians pic.twitter.com/VMAS8i70yJ

— Mike Hughes (@84MikeHughes) June 24, 2020
Dr Jayde Whittingham-Dowd usually provides #Technical support for Biochemistry equipment and research, during lockdown she helped the #NHS to set up the #COVID19 testing facility @BLSLancasterUni & has been providing assistance with testing. #N8technicians @Lancaster_FHM pic.twitter.com/h4uh7vKN8P

— BLS@LancasterUni (@BLSLancasterUni) June 28, 2020
Great initiative @N8research @NTDCtweets – celebrate the vital roles technicians play in teaching and research across the N8 with your T for Technicians selfie #N8Technicians pic.twitter.com/Faq984RHWl

— IST (@istonline) June 15, 2020
Proud to be part of a team of technicians working within the creative arts.

Collobarating across Film, Media, Music, Sound, Performance, Fine Art and Cultural Studies.

'T for technicians'. @UniofNewcastle @N8research #n8technicians pic.twitter.com/1UGJd1uILt

— James Davoll (@jamesdavoll) June 16, 2020
Dr Elisabeth Shaw is one of a team of #N8Technicians @BLSLancasterUni who have been supporting @UHMBT #NHS partners to perform #Covid19 diagnostic testing 7 days a week during lockdown in our @PHE_uk accredited laboratories. @Lancaster_FHM @LancasterUni #Keyworkers #Technician pic.twitter.com/VkMSk33TUa

— BLS@LancasterUni (@BLSLancasterUni) June 26, 2020
Catching up this morning on all the great tweets from @tpconf2020 @NTDCtweets yesterday. Anyone who's worked in a university knows how much research and teaching simply couldn't happen without #Technicians and so it's brilliant that we're celebrating #N8Technicians pic.twitter.com/9mTZ9ZtzIp

— Steve Parkinson (@markllester) June 25, 2020
T for technicians: Big thanks to all technicians that make #Physiology research possible including our very own @LU_SportsExSci Jack Cunnington! #N8Technicians @N8research pic.twitter.com/L1UfykGKnA

— Chris Gaffney (@cgaffneyphd) June 26, 2020