The N8 Research Partnership has launched a major new initiative to promote research collaborations between academics and the police.
The N8 Policing Research Partnership (N8 PRP) was launched at a workshop held at the University of Leeds with Police and Crime Commissioners (PCCs) and their representatives from across the north of England.
The purpose of the N8 PRP is to enable and foster high quality, independent research and to facilitate research-based contributions to public debate, policing policy, governance and practice.
The strategic collaboration will provide a range of opportunities for conducting research that helps address the problems of policing in the 21st century in new ways and provide the basis for programmes of knowledge exchange, training and innovation. Key priorities to be explored include:
Cyber-crime
Drugs and alcohol
Serious and organised crime
Domestic violence
Public order and crowd management
Critical incidents decision-making, and
Partnerships and community engagement.
Professor Adam Crawford, of the School of Law, is leading the project for the University of Leeds. He said:
"This is a great opportunity for us to do something novel with national and international significance, which draws on the strength of the eight institutions involved to generate an evidence-base of high quality research on which policing professionals can draw.
"We are keen to experiment with models of co-production in which researchers, police practitioners and policy-makers all have a stake."
Fraser Sampson, the Chief Executive of West Yorkshire's Office of the Police and Crime Commissioner said that the engagement event held at the University of Leeds had been "purposeful and energetic" and that the N8 PRP offered some "real strategic potential".
Ron Hogg, Police and Crime Commissioner for Durham Constabulary, said:
"The value of academic research is that it is very robust. If you're investing time and money then you've got to be sure you're getting the outcomes that you want for policing. The N8 will help guide this."
Steve Heywood, Assistant Chief Constable, Greater Manchester Police and ACPO representative, commented:
"There is a huge opportunity for N8 to be a significant influence on government policy going forward. With evidence based innovation we have an opportunity to influence significantly."
World-leading research expertise from a range of social sciences such as criminology, business studies, psychology, law and urban geography will be used to address policing issues locally, nationally and internationally.
At the launch, Rachel Tuffin, Head of Research, Analysis and Information at the College of Policing said:
"There are lots of gaps in the evidence base for the way policing is conducted and we hope that the N8 group will help fill those gaps."
As well as incorporating a mix of empirical and theoretical approaches, research will be non-exclusive, making it open to the involvement of diverse perspectives and other academic and non- academic partners.
Public engagement will also be fostered, both during research and in dissemination. The intention of this is to produce knowledge that has a public purpose and tackles crime using innovative and novel methods.
Read more about the N8 Policing Research Partnership here.
Pictured below, Professor Adam Crawford launches the N8 Policing Research Partnership to event delegates.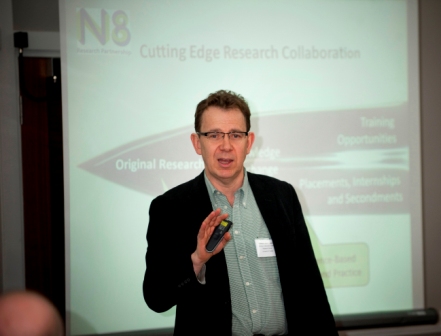 Pictured below, Rachel Tuffin, Head of Research, Analysis and Information at the College of Policing.