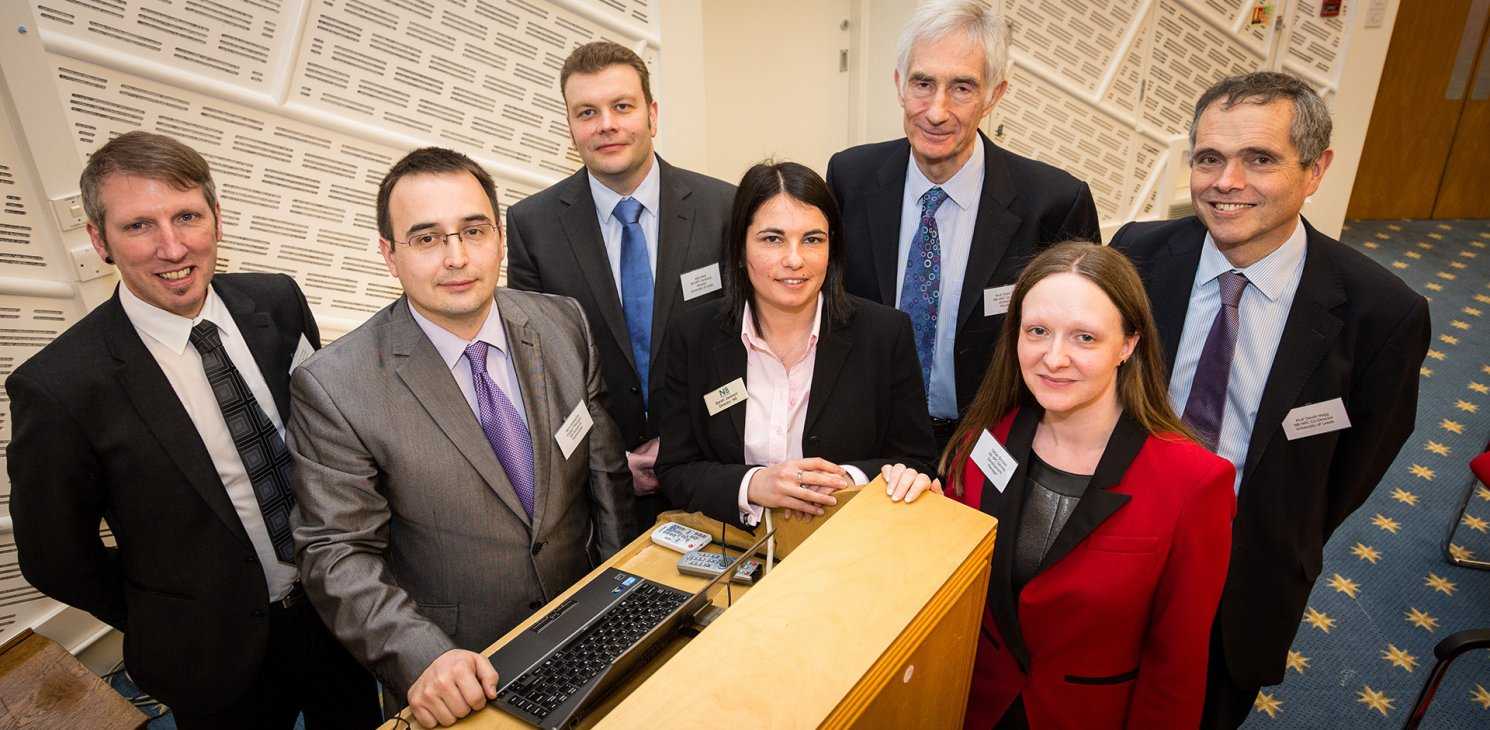 The new N8 High Performance Computing (N8 HPC) centre, was showcased to over 100 representatives from industry and the N8 universities at a special event in Manchester.
The HPC facility provides access to a high performance computing facility for the Universities of Durham, Lancaster, Leeds, Liverpool, Manchester, Newcastle, Sheffield and York, and will lower the barriers to industry use of high performance computing by offering businesses easy access to the facilities, alongside consultancy and e-infrastructure training.
Based at the University of Leeds and run jointly with the University of Manchester, the £3.25m facility offers high performance computing on a scale which previously has not been readily available to researchers in the North. N8 HPC operates Polaris, one of the 250 most powerful computers in the world and which is capable of a peak performance of 110 trillion operations per second – the approximate equivalent to half a million iPads.
The centre, which is funded by the Engineering and Physical Science Research Council (EPSRC), will provide a major boost by enabling academic and private sector researchers to build more realistic models involving large amounts of data and to undertake more complex analyses in many research fields including life sciences, energy, digital media and aerospace.
Professor Chris Taylor, N8 HPC Co-Director, University of Manchester, said:
"The creation of N8 HPC, with one of the UK's leading high-performance computing facilities, will underpin world-leading research across our universities, and enhance our ability to engage with industry to solve important real-world problems.  The facility will allow us to tackle more complex modelling and 'big data' challenges, whilst the academic and support networks we are building around it, will make high-performance computing accessible to a wider range of university and industry researchers."
Professor David Hogg, N8 HPC Co-Director and Pro-Vice-Chancellor for Innovation and Research, University of Leeds, said:
"N8 HPC creates a further opportunity for even greater collaboration between universities and businesses, as well as enabling deeper partnerships between institutions.
"By providing support and expertise to maximise the opportunities that the N8 HPC offers, we aim to make it easier for industry across a wide range of sectors to access high performance computing, enabling existing university-industry collaborations to be further developed and new partnerships to be forged."
Although officially launched yesterday, N8 HPC has been business-ready since early-January, running a number of pilot projects. One of the projects that has already benefitted from the capability that N8 HPC offers was a project carried out by the BBC to re-categorise 128,000 separate music tracks according to mood – an exercise that would normally have taken over 18 months to complete.
With over 200,000 music tracks broadcast across the BBC each week, the ability to quickly navigate its vast digital music selection and select the right piece of music is increasingly important. BBC Research & Development in conjunction with Queen Mary University in London and I Like Music developed novel software that can model the mood of a track based on tempo, key and over 36,000 keywords that define the emotional response it elicits. But as they did not have the computing ability to analyse files in house, the BBC Research & Development team approached the University of Manchester after hearing about N8 HPC.
N8 HPC was used to simultaneously run thousands of tasks to analyse each track a total of 53 times.  In addition to the analysis, by providing specialist support alongside the high performance computing capability, the N8 HPC team introduced the BBC Research & Development unit to high performance computing and demonstrated how it could be used in their everyday work so that the library can be continually updated and maintained.
Chris Baume, BBC Research & Development, said:
"The entire dataset was processed in only six hours, creating the world's largest time-varying musical feature database. N8 HPC's combination of cutting-edge facilities and outstanding support was of huge benefit in getting the project completed and we look forward to working with them again."
Among the businesses present at the event was Sheffield-based Iceotope, which designs and manufactures novel immersive liquid cooling systems for computing servers. The company already has an established relationship with the University of Leeds and the N8 Research Partnership, and is keen to explore how N8 HPC will benefit the research programme it has planned over the longer term.
Richard Barrington, Business Development Director, said:
"By being able to tap into multi-disciplinary knowledge and expertise and having a 'critical friend' in the shape of the University of Leeds, we have been able to design engineer and deliver one of the most energy-efficient integrated computer cooling systems there is.
"SMEs should be making more use of the specialist skills and knowledge that exist within our universities to help them tackle highly complex problems. From getting assistance with modeling, advanced fluid dynamics, and systems research right through to testing, we are grateful for the broad spectrum of support this collaboration has brought, and we welcome the opportunity to use N8 HPC to complement the partnership we're already benefiting from."
Businesses across all sectors, and of all sizes, will be able to benefit from consultancy and training as well as advice on the range of applications that N8 HPC is suitable for. Training is provided through a combination of hands-on workshops and online courses. All training is modular, to allow researchers to choose the right mix of elements for their particular needs.
Front row, left to right: Nick Goldspink, Project Manager, N8 Research Partnership; Sarah Jackson, former Director, N8 Research Partnership; Gillian Sinclair, Service Development Manager, N8 HPC;
Back row, left to right: Robin Pinning, Associate Technical Director, N8 HPC; Alan Real, Technical Director, N8 HPC; Professor Chris Taylor, N8 HPC Co-Director, University of Manchester; Professor David Hogg, N8 HPC Co-Director and Pro-Vice-Chancellor for Research and Innovation, University of Leeds.