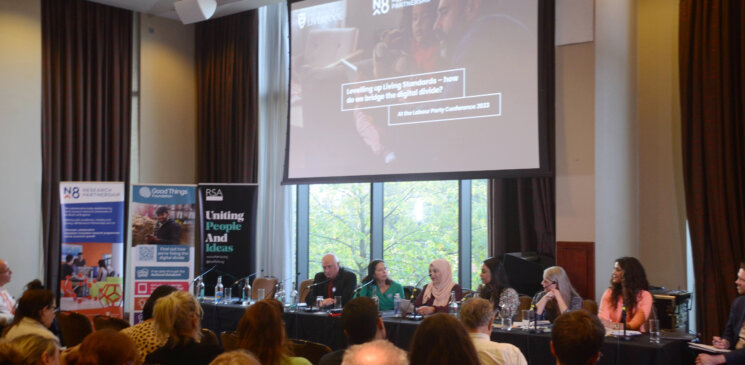 The second in the UP North series of events took place on Monday 9th October at the Labour Party Conference in Liverpool. 
In collaboration with the N8 Research Partnership and the Royal Society of Arts (RSA), the University of Liverpool hosted a panel discussion with leaders from industry, politics, public sector, civil society and academia, on how we can level up digital access and skills to close the divide. 
The panel addressed the stark reality that approximately 10 million people in the UK currently lack even the most basic digital skills, such as navigating an internet browser or using a computer mouse. Neglecting this issue could lead to a future where a considerable element of the UK workforce remains under-skilled, with far-reaching consequences for our society, the economy, and overall health and wellbeing. 
The UP North event was chaired by Jennifer Williams, northern correspondent of the Financial Times, with the day's speakers being: 
Steve Rotheram, Mayor of the Liverpool City Region  
Professor Simeon Yates, University of Liverpool 
Dr Emma Stone, Good Things Foundation 
Toby Perkins, MP for Chesterfield and Shadow Minister (Nature and Rural Affairs) 
Beena Puri, Greater Manchester Combined Authority 
Hafsha Shaikh, Smartlyte – Get Families Talking 
Dana Haidan, Virgin Media O2 
Jocelle Lovell, Cwmpas 
Jennifer firstly set out the background of the digital divide, and referenced a report carried out by the House of Lords Communications and Digital Committee in June 2023 which found that the government does not currently have a credible strategy for dealing with this issue. A key proposal under consideration is the establishment of a Minimum Digital Living Standard to ensure that everyone in the UK has equitable access to essential digital skills and events. 
The report also found that millions of people across the UK don't have access to broadband or mobile data, and that the digital skills shortage is costing the economy £63billion per year. Jennifer argued that the digital divide has only been exacerbated by the pandemic and the rising cost of living, with other factors such as rurality giving further need for focus in areas which are less connected and socioeconomically deprived. 
Jennifer then invited the speakers to answer questions about the responsibility and tools required to make digital inclusion a reality.  
Mayor Steve Rotheram outlined that a future Labour government should take heed from mayoral combined authority areas such as Liverpool City Region, which identified that digital exclusion was having a detrimental effect on social mobility in the region.  
Steve outlined what the Liverpool City Region has been doing to increase connectivity locally, from providing technology and training for those who have been digitally excluded, to investing in greater digital connectivity through the LCR Connect venture. The latter will see all six local authorities connected to the Hartree supercomputer at Sci-Tech Daresbury via fibre optic cables, giving the region the fastest internet speeds in the country and significantly enhanced capacity for big data analytics. 
Professor Simeon Yates then discussed the importance of tackling digital inequalities, including the need to develop policy that can keep up with the rapidly changing digital landscape. He outlined an upcoming report that shows that digital exclusion is not just about a gap in skills or technology, but about how access to benefits, the NHS and education can be hindered by financial barriers caused by digital exclusion.  
His message was that policymakers must understand the complex issue and its consequences in order to give the digital divide the urgent response it requires. 
Dr Emma Stone from The Good Things Foundation, a digital inclusion charity, built on Simeon's observation that digital exclusion relates to everyday issues like healthcare, education, travel, and banking. Emma mentioned that the solution is not just education, but policy which will tackle the economic reasons for digital exclusion such as not being able to afford broadband or suitable devices. 
Toby Perkins MP reiterated that deprived areas are at higher risk of digital exclusion but pointed out the need for different approaches to addressing the issue in rural areas and urban areas, citing the differences in connectivity and assumptions made about access to devices and broadband.  
The discussion then moved on to testimony from several individuals working in digital inclusion in deprived areas across the UK: Hafsha Shaikh, from Smartlyte – Get Families Talking; Beena Puri from Greater Manchester Combined Authority; Dana Haidan from Virgin Media O2; and Jocelle Lovell from Cwmpas. 
They talked about the impact that digital inclusion has had on individuals and communities they have supported, driving home the desperate need for increasing skills and connectivity for people who are at risk of being left behind as our day-to-day activities move further into the digital world. 
Hafsha told the audience that the people who had benefitted from support from Smartlyte – Get Families Talking were now able to keep in touch with their families through social media and instant messaging, contact a GP online, and apply for jobs, all of which had a positive knock-on effect on their wellbeing. 
Dana discussed the importance of collaboration to find solutions for social exclusion, what the telecommunications industry's responsibilities were in connecting people, and what the industry is able to do to support the government's digital inclusion goals. 
Beena outlined the work done in Greater Manchester, particularly the pilot done recently in which social housing providers partnered with internet service providers. The pilot project demonstrated that authorities need to move beyond social tariffs which can still be too expensive for those in social housing to afford, and instead offer real solutions which residents will uptake. 
Finally, Jocelle showed how the work currently being done in Wales through Cwmpas could be modelled in other areas, to create a fairer and more inclusive society through digital inclusion.  
To watch the whole discussion in full, visit:
To find out more about the upcoming events in the UP North series, please visit: https://www.n8research.org.uk/upnorth/
To see the facts and statistics about digital inclusion, please visit: https://www.goodthingsfoundation.org/insights/building-a-digital-nation/