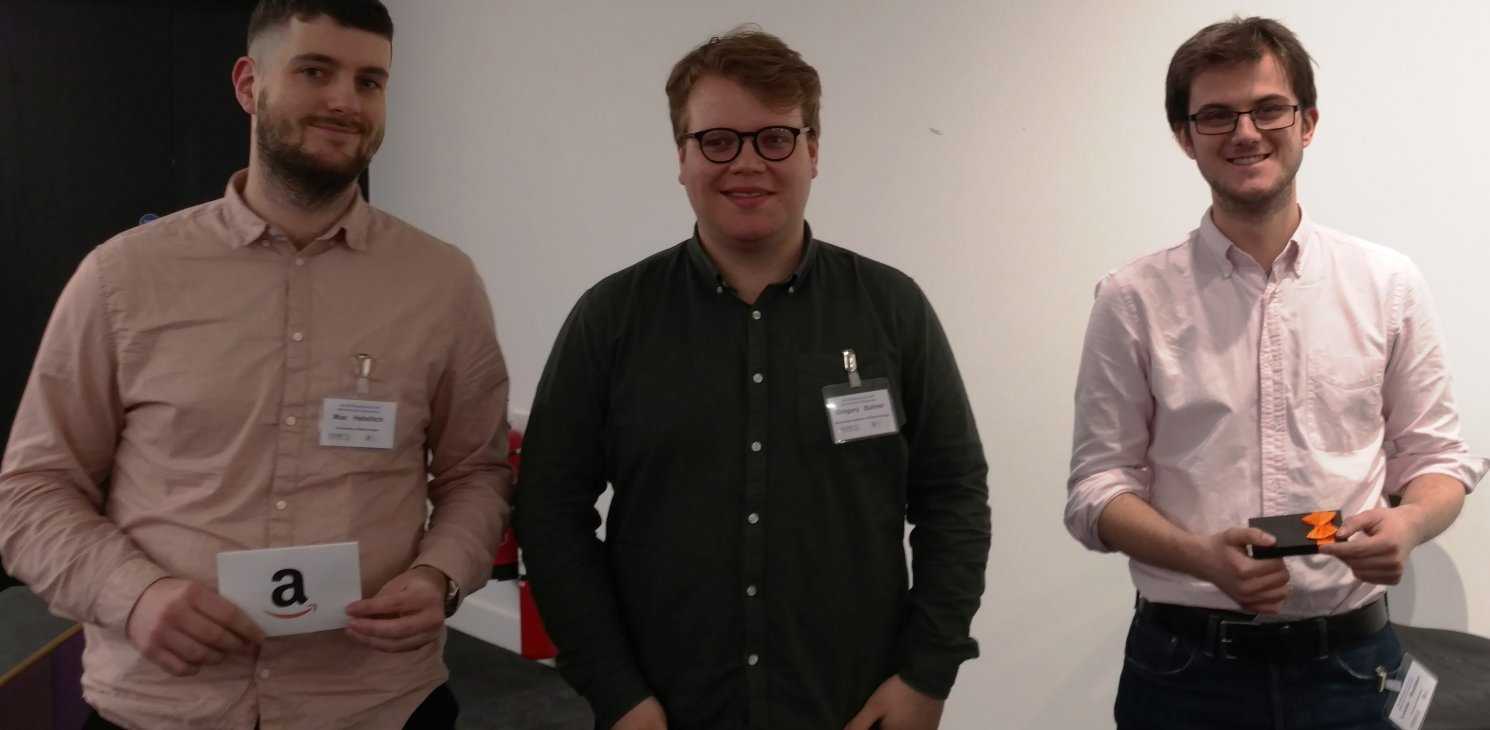 (L to R) Max Hebditch, University of Manchester, best poster from a postdoctoral researcher; Gregory Bulmer, University of Manchester, best PhD poster; Lucas Rudden Durham University, best PhD presentation.
Leading researchers from across the north of England met at the fourth ResoN8 Biophysical and Biochemistry Symposium at the University of Sheffield, to share research and technical expertise, and promote new opportunities for collaboration across the biophysical and biochemical science landscape.
Organised by the ResoN8 high-field Nuclear Magnetic Resonance (NMR) facilities group, guests were invited to share their research and experience around computational and experimental methods in biology. Delegates heard how molecular modelling and simulation, infra-red and mass spectrometry and other methods could address challenges from validation in structural biology, cardiovascular biochemistry, and molecular and medicinal biology.
Focused on techniques, rather than results, the one-day symposium focused on promoting collaborative research and increasing awareness for the region's world-class facilities available within the biophysical and biochemical sciences.
ResoN8 was founded in 2014 and is led by Dr Marie Phelan of the University of Liverpool. It enables high-field NMR facility managers across the N8 universities to exchange knowledge and experience, and arranges joint training for post-graduates from all the N8 universities, promoting sharing of equipment, expertise, and best practice. Each high-field facility in N8 offers distinct capabilities and expertise, widening researcher access to world-leading research facilities, improving efficiency and reducing redundancy.
The event was organised by Dr Andrea Hounslow, Biomolecular NMR facility manager at the University of Sheffield. She said: "This was our fourth symposium and we were delighted to see how well it was received by our delegates, who provided positive feedback on each of the insightful talks given by our N8 speakers.
"Our focus for the event was to encourage deeper collaboration between partners and we hope this event provided some interesting food for thought for delegates to take away with them."
Dr Nick Goldspink, Research Partnership Manager at N8, said: "The ResoN8 programme is an excellent example of how researchers within the N8 network meet, make new connections and share their expertise. Promoting collaboration through ResoN8 enhances the research environment in the region, as well as ensuring students in the N8 universities benefit from training across a wide range of techniques and instruments."