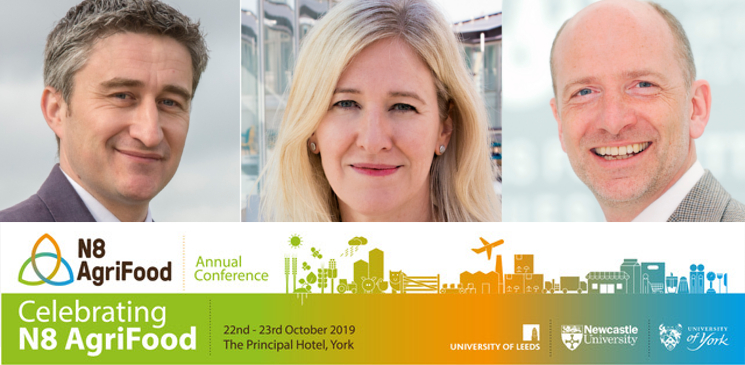 Research aimed at creating solutions for a sustainable food system is being put under the spotlight at the fourth annual N8 AgriFood Conference in October.
The conference will showcase the crucial relationships, collaborations and innovative ideas needed to tackle the challenge of developing a sustainable food system.
Keynote speeches, plenary sessions and focused parallel sessions will provide important opportunities for attendees to engage in the debate and interact with stakeholders from across the whole agri-food sector.
The two-day event, 22-23 October, at The Principal Hotel, York will feature keynote presentations from Phil Hambling, the NFU's Head of Food and Farming; Cathryn Higgs, Head of Food Policy at Coop; and Jonathan Brooks, Head of the Agri-Food Trade and Markets Division at the OECD. There will also be a poster session, a conference dinner at the National Railway Museum, and a pre-conference event aimed a commercialising research.
Antonia James, Operations Director at N8 AgriFood, said: "We are looking forward to celebrating and shining the spotlight on what we have achieved over the course of the N8 AgriFood programme to date, especially the unique collaborations we have built across the agrifood sector and the impact we have had on solving the many challenges facing the food system.
"We have some excellent keynote speakers lined up and overarching food system plenary sessions which have exciting and engaging content. Our parallel sessions all evidence the interdisciplinary programme, as well as some of the successful relationships we have developed with external stakeholders.
"We are looking to generate debate and enthusing attendees to think about how future research can work alongside industry and policy to ensure the sustainability of Food Systems in the future."
At the conference all eight universities in the N8 Research Partnership will be showcasing collaborative projects that have set out to tackle the challenges facing world food systems, as well as driving debate around future solutions.
For more information on the conference and for sponsorship opportunities please visit www.n8agrifoodconference.com