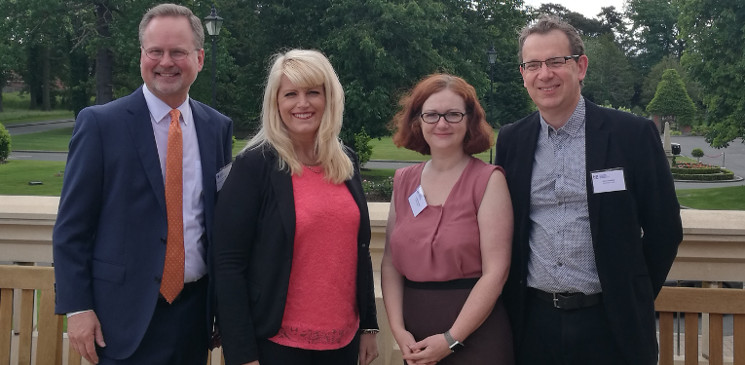 Experts in policing domestic abuse have met with American advisors to exchange knowledge and strategies on how to tackle one of the biggest issues facing society today.
Representatives from academia and policing across the North of England joined their US counterparts from Minnesota to discuss their experiences of policing domestic violence in Darlington on 12th June.
The N8 Policing Research Partnership (N8 PRP) hosted Lessons from Duluth and Beyond: Policing domestic abuse as part of a co-ordinated community response, as part of its programme of research co-production and knowledge exchange. Organiser Professor Nicole Westmarland, strand co-lead from Durham University explained:
"The Duluth model has had a huge amount of influence in the UK over the previous two decades, but this was a very rare opportunity to hear about it in their own words, ask questions, and participate in some of the exercises they use."
Delegates heard from Melissa Scaia, director of international training at Global Rights for Women, headquartered in Minneapolis and Scott Miller, coordinated community response organiser for the Domestic Abuse Intervention Programme, based in Duluth.
In the UK domestic violence currently affects one woman in four and one man in six in their lifetimes and on average has more repeat victims than any other crime.
The presenters gave an overview of the approaches to tackling domestic abuse in the US, including the introduction of the 'Duluth Model', men's non-violence classes and co-ordinated community responses (CCR).
Duluth, a town in northern Minnesota, is widely regarded as the innovator of ways to hold batterers accountable and keep victims safe, awarded 'gold' by UN Women for the best system in the world to tackle men's violence against women.
In 1980, the Domestic Abuse Intervention Programmes (DAIP) was founded as an initiative to reform the community's criminal justice system. This effort became known as the 'Duluth Model', a system which has since been adopted by policing communities across the globe.
Professor Adam Crawford, N8 PRP Project Director at the University of Leeds, said: "Domestic violence is one of the biggest problems currently facing our society. This meeting demonstrated the need for effective collaborations and knowledge exchange with our transatlantic partners, to help improve wider community responses across the N8 PRP region.
"We all have much to learn to tackle this major blight in society and the Duluth Model is leading the way in tackling domestic abuse. This was a valuable opportunity to hear of the approach in the US and to take lessons about how it can benefit our practices and outcomes."