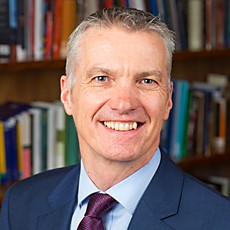 Professor Tim Jones took up post as Vice-Chancellor of the University of Liverpool in January 2023.
Professor Jones moved from the University of Birmingham, where he was Provost and Vice-Principal from 2016. Previously, he held several senior leadership positions at the University of Warwick, including Interim Provost, Pro-Vice-Chancellor for Science, Engineering and Medicine, and Pro-Vice-Chancellor for Research, Knowledge Transfer and Business Engagement.
Tim is proud to be an alumnus of the University, having gained both his undergraduate degree and PhD at Liverpool. After spending nearly 17 years at Imperial College London, during which he took on several academic leadership roles, he moved to the Chemistry Department at Warwick as part of the University's strategic investment in advanced materials research.
Tim's research interests are focused on the surface and thin film properties of a wide variety of advanced electronic materials, with applications in areas such as photovoltaics.
Tim has undertaken several external roles connected with the research and innovation agenda, including being a Board member of organisations such as the Engineering and Physical Sciences Research Council (EPSRC), the Manufacturing Technology Centre (MTC), the Welsh Science and Innovation Advisory Council, and the Alan Turing Institute. He has also been involved in several international reviews of research, including as Chair for the Academy of Finland's Research Profiling funding scheme.