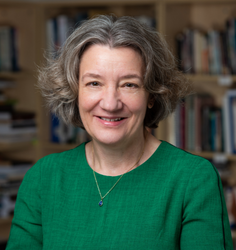 Professor Karen O'Brien joined Durham University as Vice-Chancellor and Warden in January 2022, from the University of Oxford.
For the previous five years, Professor O'Brien led the Humanities Division at Oxford. As a member of the University Council, she was jointly responsible for the financial oversight, research strategy and equalities and access priorities of the University. During the first phase of the Covid-19 pandemic, she successfully oversaw the University's preparations for operating safely during the ensuing academic year.
Prior to joining Oxford, she was Vice-Principal (Education) at King's College London. She has held a number of national and international leadership roles, including serving on the international jury of the Institut Universitaire de France and as chair of the Russell Group Pro-Vice-Chancellors for Teaching and Learning.
A Fellow of the Royal Society of Arts and Honorary Fellow of Peterhouse, University of Cambridge and of St Cross College, University of Oxford, she has published widely on the literature and intellectual history of the Enlightenment.
She is a regular contributor to BBC Radio 4, BBC World Service and other media networks. She is a Trustee of Chawton House, and was until recently a member of the editorial board of The Conversation.