Network in Environmental Challenges from Marine Renewable Energy Infrastructure
Deploying marine renewables at an unprecedented scale to meet net-zero targets can bring unknown environmental impacts. We must anticipate these impacts and propose mitigation strategies.
Overview
Meeting net zero targets will require deploying offshore wind farms, tidal stream arrays, and floating solar photovoltaic farms at an unprecedented scale over the next three decades. This infrastructure will be a major economic driver in the UK and underpin clean economic growth towards a net zero economy, while mitigating climate change. The UK Government target for 2030 is to deploy 40GW of offshore wind energy, quadrupling current capacity in eight years. This new infrastructure will cover hundreds of square kilometres of the sea surface around the UK, with the potential to generate unknown impacts on the atmospheric microclimate, currents, and tides. These potential changes include precipitation, temperature, water quality, cloud formation or sediment transport, which, in turn may exacerbate or mitigate adverse effects from climate change and harm marine ecosystems. These impacts need to be quantified in advance – and soon – to ensure the deployment of marine renewable energy is done with minimal environmental and societal risks, thus accelerating the transition to a net zero economy.
Our community focuses on understanding the impact of deploying marine renewable energy systems. We will engage with major stakeholders and industry to provide new evidence and decision tools to foster renewable-energy development. We will support students across academic levels and provide a world-class education that enhances their skills and employability within the green-energy sector.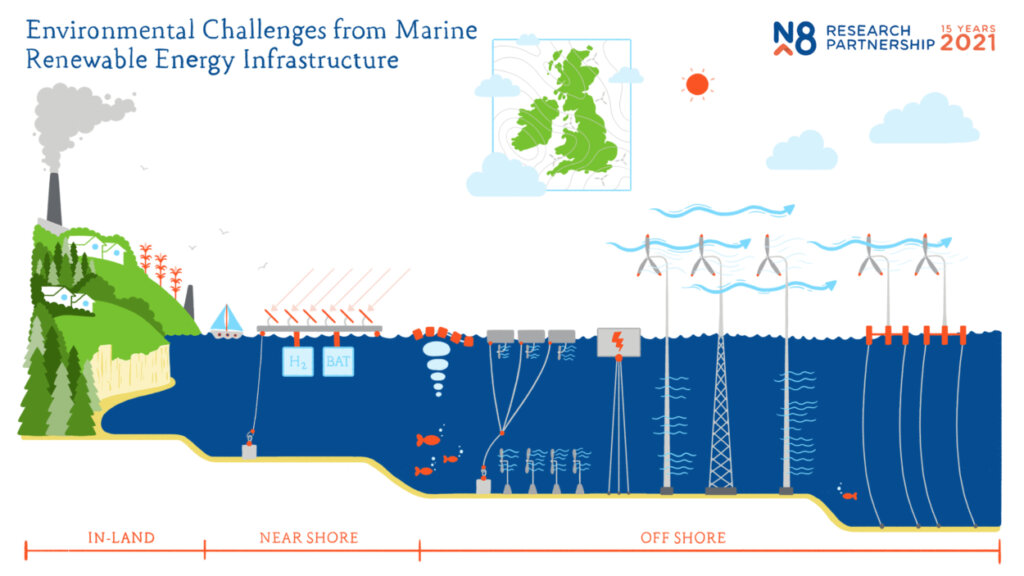 News
14 November 2023
The Network in Environmental Challenges from Marine Renewable Energy Infrastructure is pleased to announce that Riya Fernandez has been appointed as Research Assistant to support network activities and growth. Riya is currently focusing on reviewing the environmental impacts of offshore wind farms given the growing international interest in their use as a form of renewable energy generation.
Introducing herself to the network, Riya said:
I have recently finished my MSc in Renewable Energy Engineering at the University of Exeter, where I gained a solid foundation in Renewable Energy (RE) Systems, with a specific interest in areas including Wind Energy, Environmental Impact Assessment, Battery Storage and RE Policy. I also hold a Bachelor's degree in Chemistry, Environmental Science, and Zoology from St. Joseph's University (Bangalore, India). I'm enthusiastic about applying my diverse educational background while gaining hands-on experience and knowledge in the field. My professional aspiration is to engage in projects that involve the comprehensive assessment of environmental impacts related to RE systems, ultimately contributing to the development of more effective and resilient policies. I'm committed to building a career dedicated to assisting in the analysis of environmental impacts, thereby improving the circularity of RE technologies. I'm thrilled to be a part of this team and eager to learn new skills to further expand my expertise.
Getting involved
This network is organising a series of events that aim to strengthen the collaboration between the different members, forge new partnerships and engage with industry and stakeholders in fields related to offshore renewable energy.
Details of events with an open invitation to attend will be published on this page.
The team
Dr Alona Armstrong, Senior Lecturer, Lancaster University
Dr Ralph Burton, Senior Research Scientist at the National Centre for Atmospheric Science, University of Leeds
Dr Andrew Folkard, Senior Lecturer, Lancaster University
Dr Suzana Ilic, Senior Lecturer, Lancaster University
Dr Pablo Ouro, Dame Kathleen Ollerenshaw Fellow, University of Manchester
Dr Ben Parkes, Ekpe Research Fellow, University of Manchester
Prof David Schultz, Professor in Synoptic Meteorology, University of Manchester
Prof Tim Stallard, Professor in Offshore Renewable Energy Engineering, University of Manchester
Dr Francis Watson, Research Fellow, University of Manchester
Contact
If you would like to be involved in this network or request any information, please get in touch with Dr Pablo Ouro: pablo.ouro@manchester.ac.uk