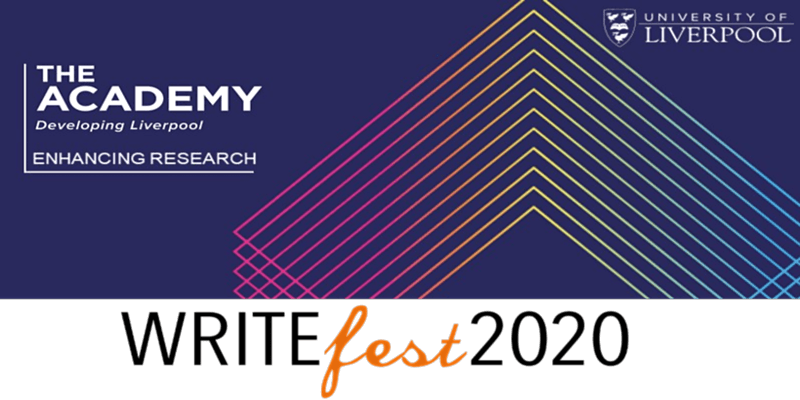 WriteFest is an international celebration of academic writing, that supports and encourages good practices and habits of writing.
N8 partner Liverpool University will be joining the National WriteFest celebrations by hosting a month of writing related activities, including weekly WriteFest Coffees, writing retreats and workshops, open to  researchers from all of the N8 partner universities.
WriteFest20 Coffee is a chance to catch up with fellow writers, to share challenges and solutions, and to talk about all aspects of academic writing. These sessions are open and informal chats, open to all academic writers from PGRs to PDRAs to Professors.
Brew yourself a cup of coffee/tea and join the sessions for a chat and a chance to share experiences, challenges, and ideas for writing!
Week 1 Theme: Getting your writing started
In this first WriteFest20 Coffee session we will talk about how to get your writing started. Do you have a paper or chapter you've been putting off for too long? Have you been too busy with other tasks to think about writing for a while? Have you faced writer's block and struggle to make progress? Come and join us for a chat – together we can find strategies for getting started and keeping up the writing momentum.
Mon 2nd Nov, 3-4pm WriteFest Coffee: getting your writing started – Register here.
In preparation for this session, you might want to take a look at this #ResDevInYourPJs video where Eli, Angela, and Saneeya talk about academic writing, writing retreats, and WriteFest.
Week 2 Theme: Expanding your horizons
Academic writing can be seen as entering into an academic conversation, but who are we having that conversation with? Who's research are you reading and how does that reading influence your own research direction. Join us for this informal afternoon coffee break to talk about how and why we should be expanding our reading lists to also improve our writing.
Monday 9th Nov, 3-4pm WriteFest Coffee: diversity in research- expanding your reading horizons – Register here.
In preparation for this session, you might want to take a look at this video where Lara Boroditsky talks about how the languages we speak shape the ways we think: https://youtu.be/iGuuHwbuQOg
Week 3 Theme: Supporting others on their writing journey
Writing can often be a very lonely experience. It is just you and your computer screen. And yet, writing is also inherently social – you are writing for other people to read. So how can we best support each other on this writing journey? Who do you draw on for support? What kind of support do you find most helpful? Come and join us for a chat and share your experiences of developing at a writer.
Monday 16th Nov, 3-4pm WriteFest Coffee: supporting others writing – Register here.
In preparation for this session, you might want to take a look at this talk by Helen Sword where she discusses Stylish Academic Writing and how to engage the reader in your writing https://youtu.be/nQsRvAVSVeM
Week 4 Theme: Keep going by getting creative
After nearly a month of focusing on academic writing, and building that writing practice, why not branch our and try something new? We often think of academic writing as technical, difficult, aimed at a specialist audience. But there are many reasons why you may want to communicate your research to a much wider audience. In this final WriteFest Coffee, we are joined by Andrew and Sam to talk about creative ways to share your research ideas.
Monday 23rd Nov, 3-4pm WriteFest Coffee: getting creative with your writing – Register here.
You might also want to listen to a recorded talk by the webinar facilitator Dr. Sam Solnick, co-director of the Literature and Science Hub: Exploring and Sharing Research Through Poetry