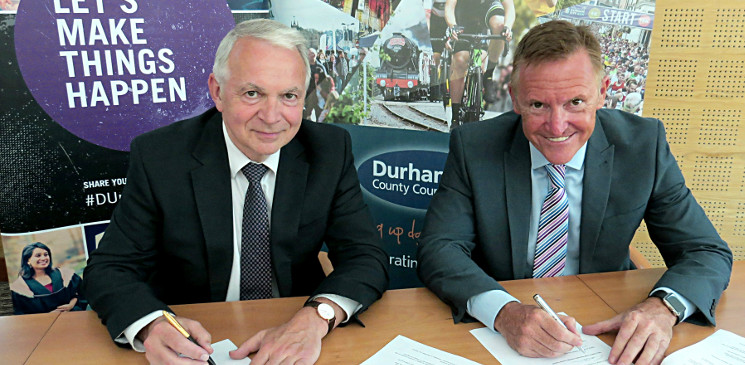 Durham University and Durham County Council have signed a new partnership to work together for the good of County Durham.
The partners have agreed a Memorandum of Understanding (MoU) to work together to raise the national and international profile of County Durham and Durham University with governments, businesses and others to attract talent, money and business and benefit local communities.
The two organisations have worked together for many years, on projects including the Lumiere light festival, the development of the North East Technology Park (NETPark) at Sedgefield; and the Durham: Place of Light brand promotion.
The new agreement formally establishes this success and commits both organisations to working together on the priority areas of economic development, research, culture and heritage and place, underpinned by communications.
Jane Robinson, Chief Operating Officer, Durham University, which is also part of the collaborative efforts of the N8 Research partnership, said: "We see the relationship with our local community and the wider region as critically important.
"We have a long and successful record of collaboration with Durham County Council across a range of economic, social and cultural interests and we believe this agreement will foster an even closer working relationship, which will be mutually beneficial."
Terry Collins, Chief Executive of Durham County Council, said: "Durham County Council has a well-established relationship with Durham University and we are looking forward to building on the successes we have had already including the development of NETPark, the nationally recognised city water safety campaign and our work together on the development of an internationally recognised culture programme.
"Working closely together will allow us to continue to shine a light on our county as a great place to study, work, live and visit. Together we can celebrate Durham and ensure that regionally and nationally we promote the county's huge offer."
The agreement has been welcomed by others.
Northern Powerhouse Minister Jake Berry said: "The Northern Powerhouse is a long term government priority, and we're investing over £58 million in Durham through growth deals to boost the local economy.
"We're determined to build on this strength so I'm delighted that Durham University is demonstrating its commitment to help attract and retain talent in the North.
"The partnership between Durham University and Durham County Council will help raise the national and international profile of the local area, and will be a real boost to the Northern Powerhouse."
James Ramsbotham, Chief Executive of the North East England Chamber of Commerce, said: "Durham University is a world class higher education institution at the heart of County Durham which offers world class opportunities for business and people aspiring to achieve their ambitions.
"Communicating the potential of both, nationally and internationally, will help unlock so much potential and the North East England Chamber of Commerce is delighted to support this important Memorandum of Understanding."
Roberta Blackman-Woods, MP for the City of Durham, said: "I am pleased to see the University and the County Council coming together in this way, and I hope that it attracts good quality business, talent and investment, bringing benefits to the whole area.
"I would particularly like to see greater investment in business capacity for new graduates, such as space for start-up business units, which would improve graduate retention rates, allowing more of the University's talented students to stay in the area after their studies.
"It is very important however that Durham County Council and Durham University involve residents in any major decision-making through a proper consultation process, to ensure that the wider community in Durham sees the benefits of this new understanding."
Economic development
The University and Council are committed to identifying opportunities for closer collaboration to encourage the economic development of County Durham.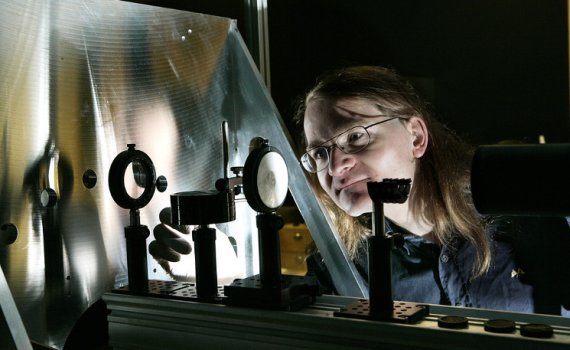 Both organisations are committed to the further development of NETPark, developing an entrepreneurial culture with new space for University spin out companies and fostering strong relationships between the University and local businesses.
A recent independent study found that the University is worth more than £600 million a year to the economy of North East England and supports more than 10,000 jobs in the region.
Research
The partners will seek to leverage research expertise to improve the quality of life for the communities and people of County Durham, by working together on areas including energy, reducing poverty and raising educational attainment.
The Teaching and Learning Toolkit, developed by Durham University and the Sutton Trust, is now used by two-thirds of head teachers in England to inform how best to spend funding targeted at supporting disadvantaged pupils.
Culture and heritage
The University and Council will seek to make North East England a focal point for culture and heritage, collaborating on a number of strategic partnerships, including Lumiere; the development of The Zurbarán Centre for Spanish and Latin American Art in Bishop Auckland, County Durham; and the conservation of the Durham Light Infantry (DLI) collections including at the DLI Gallery within the University's Palace Green Library.
The University's recently approved ten-year Strategy includes a commitment to fundraise for a new concert and performance hall that will benefit Durham City and the wider region.
Place
The partners will work together to build sustainable communities and maximise the benefits of the University's activities for the region.
Durham University staff and students give around 25,000 hours a year in volunteering and the University is planning to spend £10.9 million on financial support packages and access outreach activities in 2017/18.