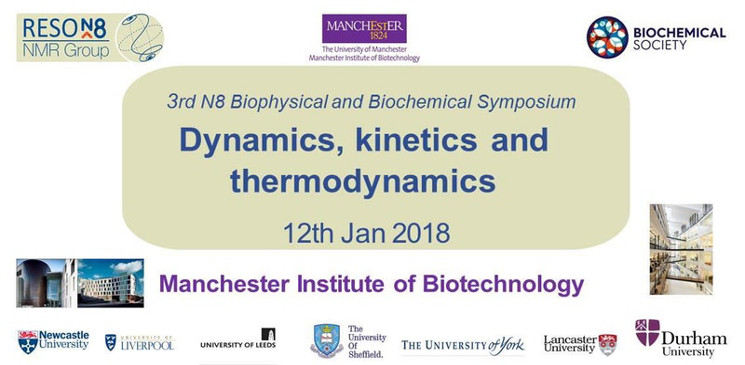 This event is the third N8 symposium being organised in the field of Biochemistry and Biophysics.
When?
12 January 2018
Where?
Manchester Institute of Biotechnology, Princess Street, Manchester, M1 7DN
The Manchester Institute of Biotechnology is located in the John Garside Building on the Sackville Street campus of The University of Manchester and is easily accessible from the city centre. It is within a few minutes walk of the main city railway station, Manchester Piccadilly.
---
The focus of the symposium will be the use of biophysical techniques to determine dynamics, kinetics and thermodynamics of biological processes. Previous symposia have focussed on "Biophysics in Native Systems" (2017) and "Multidisciplinary Techniques" (2016). The aim of the one-day symposium is to share research and technical expertise between the N8 universities (Newcastle, Durham, York, Leeds, Sheffield, Manchester, Liverpool and Lancaster) in order to promote deeper collaboration and appreciation for facilities and expertise available across the biophysical and biochemical sciences. With this in mind we are targeting talks that are focused on the interplay of methods and techniques employed for a variety of research areas.
The programme will feature eight speakers from across the N8 universities and encompass both early career and senior researchers from the fields of primarily molecular biology and medicinal chemistry. It will also host a lunchtime poster session and rapid fire poster talks for junior researchers with a poster prize awarded (provided by C4X Drug Discovery) at the end of the day.
For more information, please click here.