Three N8 universities have been honoured by the Queen with Regius Professorships as part of her 90th birthday celebrations. These new posts of Regius Professor are at:
The awards are part of 12 that have been conferred across the UK.
The title of Regius Professorship is a rare and prestigious award bestowed by the Sovereign to recognise exceptionally high quality research at an institution. Only 14 have been granted since the reign of Queen Victoria, including 12 to mark the Queen's Diamond Jubilee in 2012.
The recipients of the new Regius Professorships have been selected by open competition and judged by an independent panel of business and academic experts. A Regius Professorship recognises exceptionally high quality teaching and research at an institution.
Announced in the government's Productivity Plan in July, the new Regius Professorships will celebrate the increasingly important role of academic research in driving growth and improving productivity over the past 90 years.
Chancellor of the Exchequer, George Osborne said: "I am passionate about promoting science and economic growth right across the country. That's why I promised to push for prestigious new Regius Professorships not just in London and Oxbridge, but in other great centres of learning, including the Northern Powerhouse, Wales, Scotland and Northern Ireland."
Jo Johnson, Minister for Universities and Science, said: "The success of our economy is underpinned by the exceptional science and research taking place in our world-leading universities up and down the country. We'll continue to make sure pioneering science is recognised and supported to help improve the lives of millions across the country and beyond."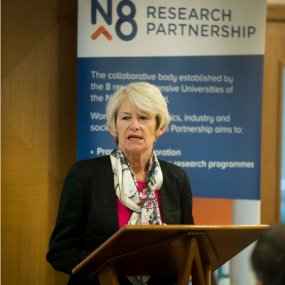 Professor Dame Nancy Rothwell (pictured), President and Vice-Chancellor of The University of Manchester said: "I am delighted that the University of Manchester's world-leading research in materials has been
recognised with this prestigious honour. The Regius Professorship will help to ensure that Manchester continues to be at the international forefront of materials research and applications."
Professor Louise Robinson, Director of the Newcastle University Institute for Ageing, said: "I am delighted that we are able to join in the celebrations for Her Majesty's 90th birthday with this award of a Regius Professorship in Ageing to Newcastle University.
"It celebrates the increasingly important role of research into how we can help people age healthily and the breadth and depth of ageing-related research led by Newcastle University Institute for Ageing."
Dr Peter Simpson, director of N8,added: "These prestigious awards further demonstrate that excellence in research can be found across the United Kingdom, including in the growing strength of the North of England."
Save