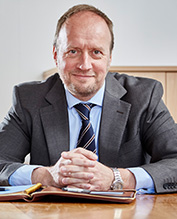 School of Molecular and Cellular Biology
Initially trained as a physical/inorganic chemist (University of London and University of Greenwich in the UK), Prof. Ladbury completed post-doctoral research at Yale University, Harvard University Medical School and New York University Medical Center in biophysics and molecular biology.
Prof. Ladbury was privileged to obtain a Research Career Development Fellowship from the Wellcome Trust in 1994, which enabled him to return to the UK to start his own laboratory at the University of Oxford. He joined University College London in 1996 and became a Wellcome Trust Senior Research Fellow (WTSRF) in 1998. In 2003 he became Professor of Molecular Biophysics and successfully renewed his WTSRF (to 2008). In 2006 he became Deputy Head of the Department of Biochemistry & Molecular Biology and Director of Biophysics at the Institute of Structural and Molecular Biology. In 2008 he moved to Houston, USA to take up the position of Edward Rotan Distinguished Professor of Cancer Research and Director of the Center for Biomolecular Structure and Function at MD Anderson Cancer Center. 
He returned to the UK in 2014 to become Dean of the Faculty of Biological Sciences at the University of Leeds. Prof. Ladbury has published approximately 150 peer reviewed papers and articles and has edited two authoritative books on biocalorimetry and one on structure-based drug design. Prof. Ladbury has exploited this strength in biophysical chemistry in looking at protein interactions in intracellular signal transduction. His current research involves a multi-technique approach to investigating the way in which proteins are able to propagate and maintain mutually exclusive signals in mammalian cells. Investigation of these phenomena has revealed the mechanistic basis of disease states such as cancer.