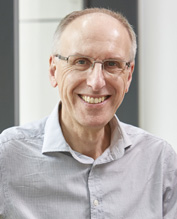 Dr Mike Raxworthy is Operations Director of the Regener8 Centre for Translational Regenerative Medicine (based at the University of Leeds) where he heads the executive management group.
Regener8 works at the interface of industry, academia and clinical application and seeks to develop translational awareness amongst academic researchers and to connect and influence the UK national regenerative medicine landscape. It works with over 330 academic members and over 260 industry partners.
Regener8 has a national profile within the UK and organises one of the most prominent Medtech-RegenMed conferences each year. It also supports a programme of early stage translational projects involving industrial-, clinical- and university-based researchers.
Dr Raxworthy is a biomedical scientist and holds a PhD from the University of Leeds. He has over 25 years' experience leading research and development projects in the medical technology, medical device and pharmaceutical industries, having had his first involvement in tissue engineering/regenerative medicine in 1996.
He holds an MBA from Warwick Business School and is also the founder and Chief Executive Officer of Neotherix Ltd, a medical technology/regenerative medicine company producing novel bioresorbable scaffolds for tissue repair which was spun-out from Smith & Nephew in 2007.