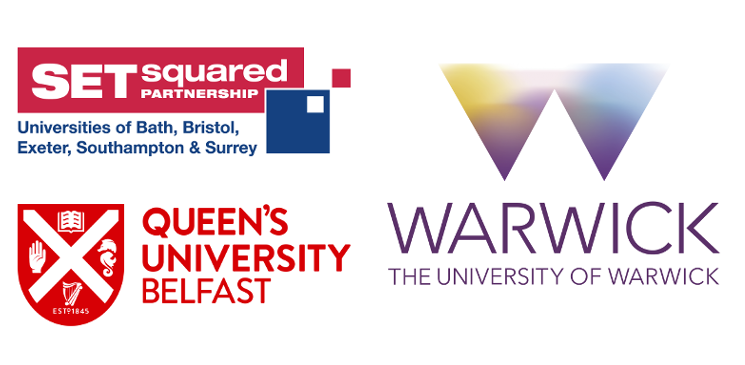 Up to £35,000 for teams led by early career researchers to validate their commercially-promising ideas in the market. Applications now open.
The ICURe (Innovation-to-Commercialisation of University Research) Programme trains, funds and supports teams led by university early-career researchers (ECRs) to determine whether there is a market for products or services that utilise their research, science or technology. Up to £35,000 of funding is available to 'get out of the lab' and validate these commercially-promising ideas in the marketplace.
The ICURe pilot 2014-2018 has proved a great success in increasing the transition of university research into public use, with 160 teams creating 50 new companies.
In the year to 31 March 2019, SETsquared Partnership, the University of Warwick and Queens University Belfast, supported by Innovate UK, are delivering ICURe the programme nationally across the UK.
Each team comprises the ECR as "Entrepreneurial Lead", his or her Senior Researcher, a business adviser and a member of the Technology Transfer Office (TTO). The TTO's skills and expertise regarding understanding university process and policy are essential to getting the best out of the programme.
The ICURe process
Business Model Generation
3-day residential bootcamp for the whole team to form a hypothetical business model, a budget and an action plan for the next stage, Market Validation.
Market Validation
3 months for the ECR to test the business model through conversations with at least 100 prospective market contacts. £35k buys out the ECR's time and provides sufficient funds for the ECR to travel and for the team's incidental expenses.
Options Roundabout
Presentation of the results of Market Validation stage to a panel of experts and investors.   The panel feeds back on the commercial options for the project.
Business Planning
3 months to prepare business plans, but only for those teams with the potential for licensing or spin-out.  Up to £15k of additional funding available.  Opportunity to apply for ring- fenced grant funds from Innovate UK.
National Roll-out
ICURe South – SETsquared
Cohort 14 – w/c 10 September 2018.  Application deadline 16th July 2018.
Cohort 15 – w/c 14 January 2019.  Application deadline 19th November 2018
ICURe Midlands – University of Warwick
Cohort A – 12 June 2018.  Application deadline 18th May 2018.
Cohort B – w/c 24 September 2018.  Application deadline 25th August 2018.
ICURe North – Queen's University Belfast
Cohort A – w/c 6th August 2018.  Application deadline 6th July 2018.
Cohort B – w/c 7 January 2019. Application deadline 30th November 2018.
"I thought I knew my target market for my technology. But this programme has helped our team gain real feedback from potential customers and is dramatically changing the way we view our approach to research commercialisation." – SETsquared ICURe Pilot Programme Participant.
For more information, click here.
Please apply to one of Innovate UK's three delivery partners.
The University of Warwick (ICURE@Warwick.ac.uk)
SET Squared Partnership (ICURE@setsquared.ac.uk)
Queen's University Belfast (ICURE@qub.ac.uk)