The Vice-Chancellor of the University of Sheffield, Professor Keith Burnett, has been awarded a knighthood in the New Year's honours list for services to science and higher education.
Professor Burnett, pictured right, is a current member of the N8 Board and was Chair of the N8 (2008-2012). He is an eminent atomic physicist who has played an important role in developing science policy in the United Kingdom, and is also a member of the Council of Science and Technology reporting to the Prime Minister.
Professor Burnett has been a strong supporter of the University's Advanced Manufacturing Research Centre, an award-winning collaboration between leading companies such as Boeing and Rolls-Royce, as well as over 40 supply chain companies.
Fellow N8 Board member, Vice-Chancellor of the University of York, Professor Brian Cantor, was also recognised in the honours, being made a Commander of the British Empire.
Professor Cantor has led the University of York through its most dynamic period of growth which has included the major campus expansion at Heslington East, and York's recognition on the world stage, including being ranked in the Top 10 of young universities worldwide. A Vice-President of the Royal Academy of Engineering, he is acknowledged as a world authority on materials manufacturing and his research has contributed to fundamental scientific advances as well as improvements in many industrial products.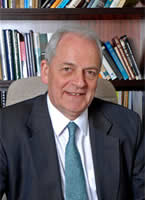 Professor Brian Cantor CBE, Vice-Chancellor of the University of York