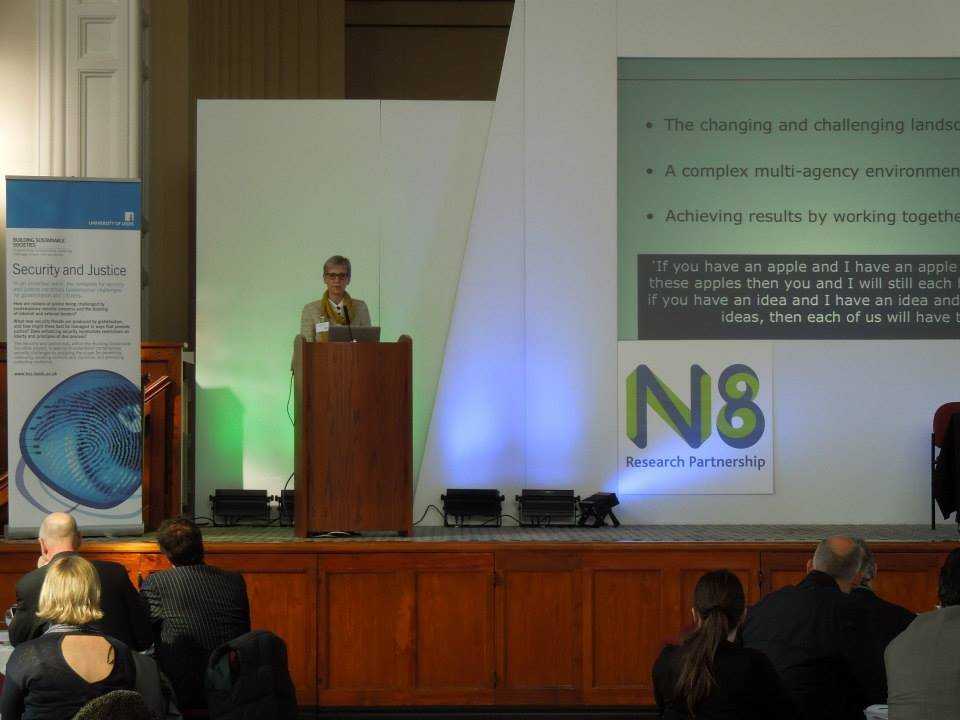 Academics, police professionals and partner organisations have united to identify opportunities for collaboration and innovation in regional policing.
At a special event today at the University of Leeds, participants discussed ways in which partnerships can generate new ideas for research, test methods and techniques for tackling crime and contribute to knowledge exchange.
The N8 already has a strong track record in creating pioneering research collaborations in science and engineering by forging strong links with industry and bringing companies and academics together in key challenge areas. Now, this expertise is helping to shape innovative approaches to policing. Earlier this year the N8 established the N8 Policing Research Partnership (N8PRP) – a new network for evidence-based policing.
With funding from the College of Policing, the N8PRP is creating a new regional hub for policing research, made up of academics working with police officers, Police and Crime Commissioners and partner organisations to build their knowledge of evidence-based research and provide opportunities to start research in their own area of expertise, which can then be shared with their colleagues across the country.
At the event, delegates discussed research priorities in eight key areas:
Community Engagement
Cyber crime
Drugs and alcohol
Serious and organised crime
Domestic violence
Critical incident decision making
Public order and crowd management
Policing partnerships
Prof Adam Crawford, from the Centre for Criminal Justice Studies in the School of Law, University of Leeds, is leading the N8 PRP for the N8. He said:
"Policing, community safety, and crime prevention have all gone through unprecedented change in recent years. Building collaborations, fostering innovation and enhancing knowledge exchange between partners are recurring themes of good practice supported by research evidence. Today's event has been a key milestone for the N8PRP as we look for new ways to address a number of issues relating to policing in the 21st century.
"The feedback from today has shown us that there is a significant opportunity to draw on the collective and individual research strengths of the N8 and the experience of police practitioners and policy makers in order to open up and develop a high quality evidence-base."
Among the speakers at today's event were Professor Dame Shirley Pearce, Chair of the College of Policing and Sir Peter Fahy QPM, Chief Constable, Greater Manchester Police.
Professor Dame Shirley Pearce, Chair of the College of Policing, said:
"I am delighted that the College is supporting the N8 Policing Research Partnership. It's a truly collaborative approach bringing together practitioners, academics, Police and Crime Commissioners and others; working to increase the evidence base available in some of the highest priority areas for the police and public today.
"It will take time to effect the change required for policing to get to a position where it is truly an evidence-based profession and it is something the College of Policing is committed to. It is essential we have good evidence to ensure those working in policing are making the most robust decisions, using precious resources in the most effective way possible and better protecting the public. Partnerships like the N8 will be important in this overall success."
Sir Peter Fahy, Chief Constable for Greater Manchester Police, said:
"Given that we will have fewer resources in the future, it is crucial that high-quality research informs the choices we will need to make. We need a clearer view of what works and why, and what is the evidence behind different police strategies.
"It is good to see how this group of universities have come together so that we can share expertise and commission new work for the public good. Policing needs to be more thoughtful and considered in the future, and build its reputation for professional practice."
Also among the N8PRP partners are the Police and Crime Commissioners.  Ron Hogg, Police and Crime Commissioner for County Durham and Darlington, said:
"It is vital that we work closely with our academic partners in order to develop effective, evidenced based strategies for tackling crime and community problems. This will ensure the best return for the investments, and efforts, made by the Police and our partners, both statutory and voluntary."
The N8 PRP brings together world-leading research expertise from a range of social sciences such as criminology, business studies, psychology, law and urban geography to address policing issues locally, nationally and internationally. The event today followed a series of thematic workshops which took place throughout February and March and were aimed at identifying gaps in the evidence base relating to how policing is conducted.
Featured image: Professor Dame Shirley Pearce addresses delegates. Image courtesy of Clifford Stott, Security and Justice Research Group, University of Leeds.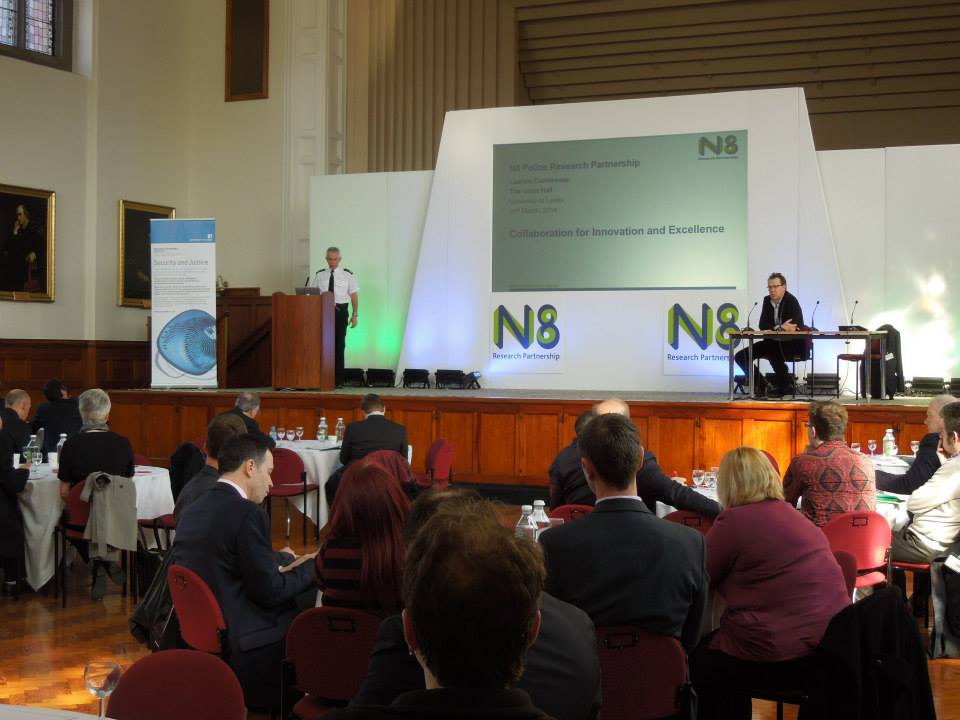 Pictured above: Sir Peter Fahy, Chief Constable of Greater Manchester Police gives the keynote address. Image courtesy of Clifford Stott, Security and Justice Research Group, University of Leeds.