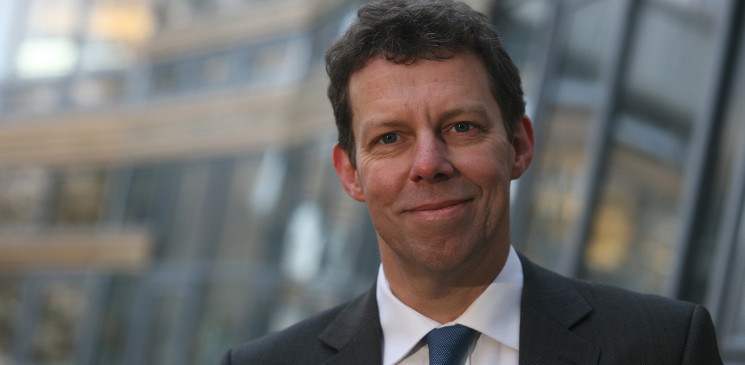 Professor Koen Lamberts, chair of the N8 Research Partnership who is also Vice Chancellor of the University of York, recently spoke at the opening session at a higher education conference in Paris.
RUE 2017 is a major annual meeting of French higher education and research institutions and, over two days, attracts around 6,000 delegates, including stakeholders in research, innovation and training.
His speech was reported in France in AEF, a key comprehensive information portal which covers a range of socio-economic sectors including education & research.
"Recruiting and retaining the best academic talent depends on a combination of factors that include: a search for national excellence, local partnerships of excellence and internationalization," said Koen Lamberts, President of the UK University of York and the N8 Research Partnership network, which brings together 8 intensive research universities in northern England, at the 2017 RUE in Paris.
In particular, he emphasizes the quality of UK research, which is strongly cited in reference publications and international and national rankings. He also presented the characteristics and advantages of the N8 network, whose research activity generates annual revenues of around £1.26bn (€ 1.45bn).
A search for national excellence
He said: "International rankings show that most of our intensive research universities are ranked in the top 150 worldwide, only the United States is doing better."
Although it is a small country in terms of population (1% of the world's population), 14% of the most quoted research articles come from British research, he said. One of the explanations for this "robust" and "diverse" foundation is investment in doctoral training, early career opportunities, the leadership of "principal investigators", and – undergraduate to professorship – to a tie in career progression.
Strong local partnerships
"Even if national strength and reputation are crucial, the local force counts as much in terms of creativity and attractiveness and productive work environment for the best academics and researchers in the world," said the N8 president. For example this network, created 10 years ago is today "the most successful". "I can say with confidence today that the N8 is now recognized as a sustainable model, a valuable collaboration."
"N8 brings more to the economy of northern England than the entire media industry, agriculture or automobile industry" of this region, he argued. Thus, "through their partnership, the eight universities rank in the top 30 of the British institutions on the criterion of the economic impact of research," which Koen Lamberts calls the "power of the 8".
The other interest of the N8 is "to succeed in bringing to the eight universities that would normally be competing, the best students, the largest research grants and the best academics and researchers."
The N8 also focuses on transferring research to business partners in identified areas "where we all win by collaborating together," insists Koen Lamberts, citing in particular the "Agrifood" program which brings together 450 researchers in 13 countries. With this type of programme, "we can give opportunities to the best researchers that each of our institutions cannot offer alone."
Internationalization and global connection.
"Conducting research on key global issues – energy security, climate change, antibiotics, cancer, biofuels, and cyber security – requires building partnerships and networks" because they are too "complex" to be solved by researchers from one country.
The reputation of international establishments also contributes to the improvement of budgets. Thus, 26% of the revenues of the N8 network come from international sources. These policies have a direct impact on the composition of the scientific teams.
Koen Lamberts also stressed the importance of the links established in Europe when speaking of international relations. At York University, 25% of the workforce is not British, and the President wants to increase this rate. His university has "valuable collaborations" with French universities in specific sectors: chemistry, biology, computer science, archaeology, in particular.
"British universities will continue their mission of internationalization. I believe British universities will continue their internationalization mission even more, and I do not believe that the recent political changes will send them back.
"We have a long history of establishing and promoting international links and a strong capacity To find funding for it, "concluded Koen Lamberts, alluding to Brexit.
"We are determined to maintain our important ties in the world and especially in Europe," he insisted, without advancing on the strategy he will adopt as president of York University or the network. "We do not know what will be negotiated" between the United Kingdom and the European Union."