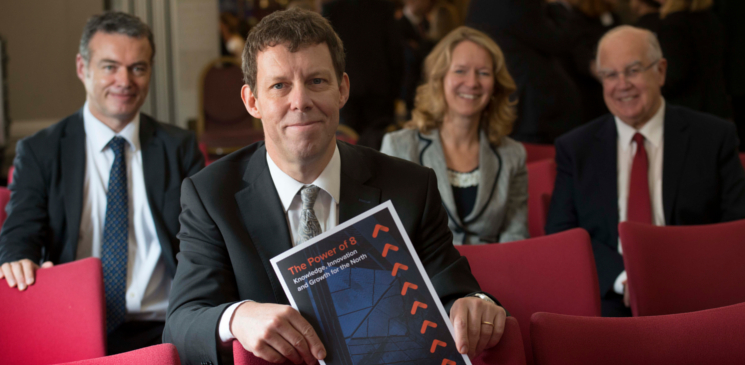 By Professor Koen Lamberts, Vice-Chancellor of the University of York and Chair of the N8 Research Partnership
Much has been said and written about the need to rebalance the economy of the UK. The economic landscape across the nation is shifting rapidly, in response to changes in patterns of industry, and decisions on national and European levels.
Change, and opportunity, are particularly marked in the North. Declining old industries will need to be replaced; positive rhetoric will need to be supplemented by investment, and by innovation, to create what can be a sustainable and resilient future for the region.
A report just published by the N8 Research Partnership – a collaboration of the North of England's eight most research-intensive universities – quantifies just how important these universities are to re-balancing the national economy and creating a resilient Northern economy.
The research paints a compelling and comprehensive picture of the contribution our universities currently make to the Northern economy – creating jobs and prosperity for people from all walks of life.
What is made abundantly clear is that N8 universities are not just world-class research institutions, but also major economic enterprises, generating significant revenue and economic activity, and driving inward investment and entrepreneurship.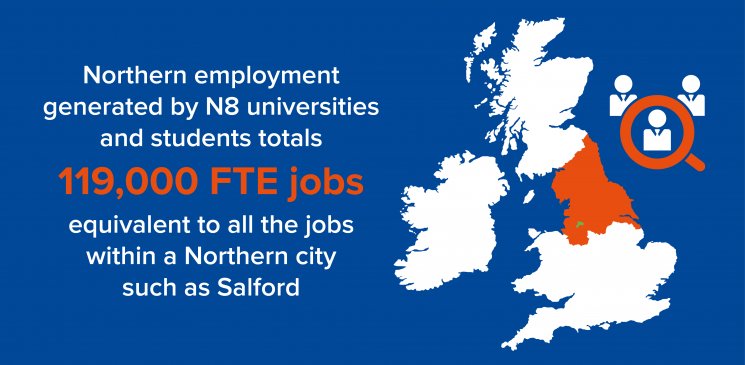 The report tells us that N8 universities – Durham, Lancaster, Leeds, Liverpool, Manchester, Newcastle, Sheffield and York – together are responsible for 119,000 jobs – equivalent to all the jobs within a city the size of Salford.
Further, the N8 universities are worth £12.2 bn per annum to the North in terms of inward income; and they contribute an annual £6.6bn GVA to the region. This is a larger share of Northern Powerhouse GVA than the entire Northern media industry, agriculture, or motor vehicle manufacturing sectors.
The report illustrates how N8 universities create new businesses, provide research and innovation to grow existing businesses, establish research hubs that support key industrial sectors, and develop the next generation of business entrepreneurs. And there is the opportunity for them to do even more. As the devolution of important powers to cities and regions moves forward, partnerships between cities and universities can provide a clear voice of leadership and ideas, to create a high-skill, innovation-driven future. N8 is committed to building collaborations across sectors and between institutions, as we see HE's role to deliver deep impact that affects society.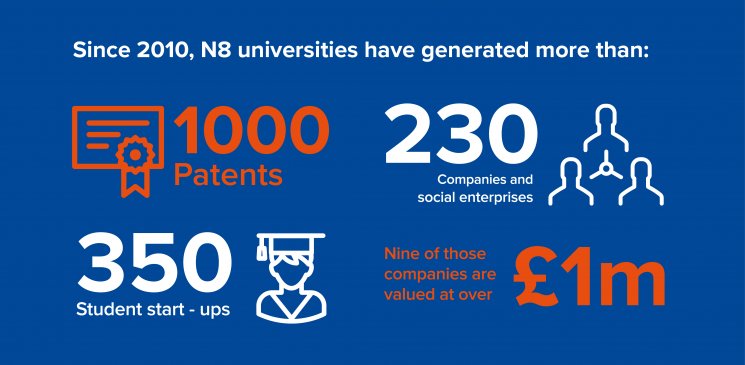 The Prime Minister recently reaffirmed the Government's commitment to the Northern Powerhouse project. Given the HE sector's economic importance in the North it is vital that it plays a central role in the Government's discussions on regional economic development and industrial strategy. The N8 report highlights several next steps needed to make a long-lasting economic change for the North. Putting research-intensive universities, working with LEPs, cities and government agencies, at the centre of a new region-wide innovation strategy would support the Northern Powerhouse, and play a major role in generating even more benefit to the Northern and wider UK economy.
Whilst discussion with government is useful, real benefit can only come from moving past rhetoric to large-scale investment: in infrastructure, research, skills, and innovation support in the North.
Universities need to be able to attract and retain the world's most talented researchers and students; we need to ensure that our students, staff and partners can easily access world-leading research facilities; and the North needs to attract innovative overseas businesses so that we have a genuinely international innovation and enterprise eco-system.
All this can happen if Government works with us to ensure stable research funding; a new commitment to investing in innovation and skills to address the productivity gap; and new flagship facilities that invigorate the Northern Economic Capabilities recently outlined by Transport for the North.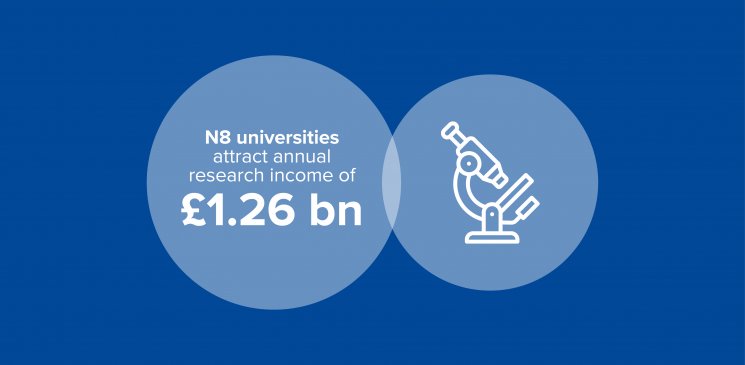 Also, we are looking to the government to ensure we can retain close working relationships across the European Union and, indeed, the globe. The N8 report quantifies, for the first time, the scale of reliance on the European Union for research funding. The eight member universities attract £1.26bn of research funding per annum, and £127m of that comes from European Union sources. This funding underpins many large and small-scale trans-national collaborations which are essential if we are to retain our global standing and attract the brightest and best talent.
It is vital that the Government develops a strategy to support international research and assures international scientists that they are welcome here, as uncertainty, from Brexit, is being widely felt. Our universities are global institutions which must be empowered and enabled to compete on a national and global level.
There are major challenges currently for the HE sector, and for the North of England as a region. Finding a way forward that ensures research and innovation receives support and investment, is not only desirable – it is essential to create a sustainable and resilient economic future.