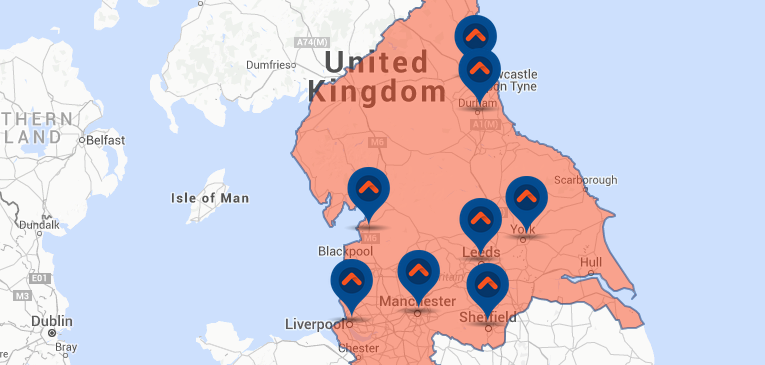 A national programme of Science and Innovation Audits (SIAs) is providing a great platform for Northern regions and universities to present a coordinated view of current and future innovation strengths.
What's been done so far?
"SIA"s, which were commissioned by BEIS, will inform government investment decisions and can lead to strategies to stimulate productivity and economic growth across the Northern Powerhouse and nationwide.
The first wave of five SIA reports from regions around the UK has included two from the North. These reports illustrate world-class research and innovation strengths, notably within areas of Northern Industrial capability in health innovation, and advanced materials and manufacturing.
The Greater Manchester and Cheshire East report found a high concentration of assets related to health innovation. By combining the region's strength in health with expertise in digital, the report also found Greater Manchester and Cheshire East could become a world-leading centre in clinical trials.
This report also emphasised the opportunity of 'Graphene City', building on the status as the place where the material was first isolated. Finally, creating synergy between digital, energy and industrial biotechnology strengths could accelerate the flow of scientific innovation to the market.
The second Northern audit, for Sheffield City Region and Lancashire found that creating a new Northern Advanced Manufacturing Corridor, could help deliver a "fourth industrial revolution" In which digital manufacturing is at the forefront.
Particular strengths of the corridor include Sheffield City Region's Advanced Manufacturing Research Centre (AMRC), Nuclear AMRC, Factory 2050 as the world's first fully-reconfigurable manufacturing facility, and Lancashire's Engineering Innovation Centre and planned Health Innovation Campus. The corridor also already includes strong research and development partnerships with companies including Siemens, Rolls-Royce and BAE Systems as well as with SMEs within key supply chains in a variety of high value manufacturing sub-sectors.
What Next?
Eight audits in a second wave of SIAs were announced by Philip Hammond in his inaugural Autumn Statement. As with the first wave, strong Northern proposals were brought forward, developed by N8 Universities and other Northern universities working in close partnership with Local Enterprise Partnerships (LEPs). Fantastically, four of the eight approved SIA bids will be led from the North.
The themes of these audits (two completed, and four now underway) continue to align closely with the Northern Powerhouse Independent Economic Review published in 2016, which identified key Northern capabilities in Advanced Manufacturing, Health and Life Sciences, Digital, and Energy: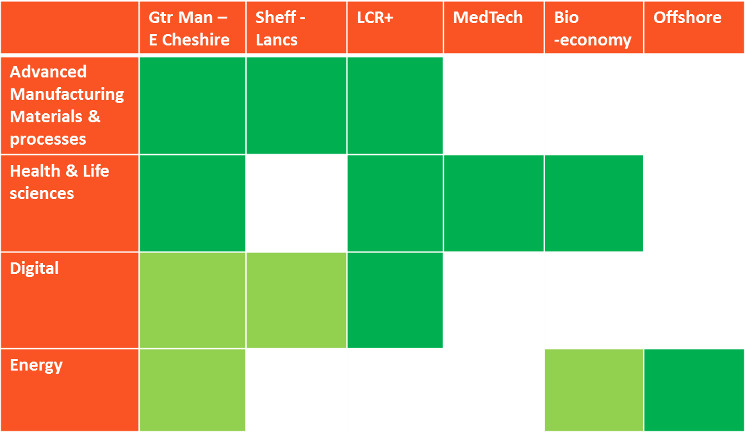 Strengthening these capabilities could help close the gap in productivity, generate new jobs and enhance the North's global competitiveness.
A SIA being led by the University of Liverpool and the Liverpool City Region (LCR) LEP will focus on the research and business strengths in Materials Chemistry, Infectious Diseases, and High Performance Computing and Cognitive Computing.
A SIA highlighting the UK's Medical Technology strengths is to be led by the University of Leeds. This will investigate how the UK can reach its full potential in the sector, which in 2015 had a global market value of £370 bn.
The University of York will lead an audit of the Bio-economy of the North of England. Assets in industrial biotechnology, and in AgriFood, will be central to a deeper understanding of a key economic community of businesses across this region.
Finally, a SIA for Offshore Renewable Energy Technologies is to be led by Newcastle University. This audit will cover the Offshore capabilities of the major Northern ports on the rivers Humber, Mersey and Tyne, along with Scottish assets. It will assess how Northern England and Scotland can transform from an implementation hub for imported offshore wind energy technology to a major export hub for manufacturing and services in this sector.
So, how will all this activity help drive investment and growth?
Firstly, it is critical that the local and national governments truly appreciate that the North of England has a fantastic research base, strong business-university interactions, and a growing economic vibrancy .The SIA reports will put the evidence for the North's bright future on the desks of policy makers and ministers, and can be used by our region's leaders to shape investment strategy.
Secondly, it is fascinating, and encouraging, to me that these bottom-up audit proposals map so closely onto the top-down Economic Capabilities for the region. SIAs will flesh out the details of what assets we have in the North, and what fantastic investment potential there is, in these key capabilities. The audit process, and reports, enable closer cooperation of city regions, LEPs, universities and businesses – to capitalise on science and innovation and to translate our strengths into investment and new jobs.