Greater Manchester and East Cheshire SIA
Greater Manchester and East Cheshire have formed a consortium to identify and focus on the major strengths of the region of health innovation, advanced materials, energy digital, and industrial biotechnology.
Their vision, of driving synergies among these strengths to create added value applications in new technologies, will be delivered through inter-connectedness and linking of clusters of excellence.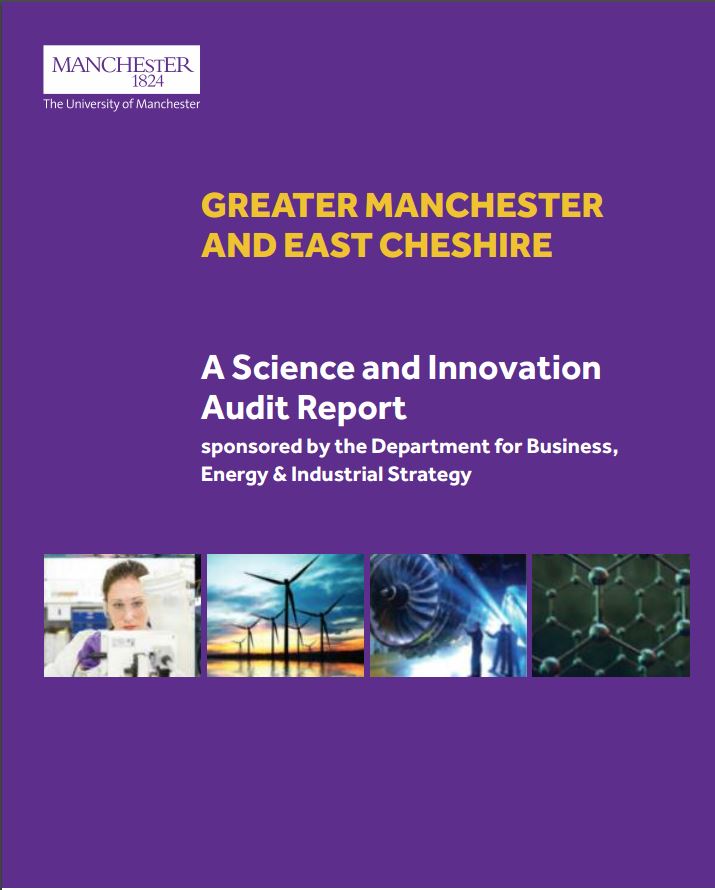 Regional Strengths
Key strengths of the region were highlighted in each of the focus areas :
Health Innovation – £28.5 Biomedical Research Centre, Manchester Cancer Research Centre, Alderley Park Science Park, and Citylabs.
Advanced Materials – Sir Henry Royce Institute, National Graphene Institute, Graphene Engineering Innovation Centre, BP International Centre for Advanced Materials,  Cockcroft Institute.
Digital – MediaCityUK, Farr Institute, CityVerve, Jodrell Bank, and Hartree Centre (Sci-Tech Daresbury)
Energy – National Nuclear Laboratory, Dalton Nuclear Institute, and National Grid High Voltage Laboratory.
Industrial biotechnology – Manchester Institute of Biotechnology, and Waters Corporation's Mass Spectrometry Facility, .
Growth Opportunities
The consortium's vision of building on synergies to create added value will be delivered through the linking of existing clusters of excellence, for example:
Health – Linking the largest cluster of health research excellence outside the South East, a large and stable population exhibiting significant health challenges, and health devolution and Health Innovation Manchester with the digital sector (eg health informatics) will allow for becoming a global leader in clinical trials.
Materials – Creating a pathway for new innovative materials, as well as a skills base to develop and apply them, will link the National Graphene Institute, which is engaged with business and producing start-up companies, with the Graphene Engineering Innovation Centre to turn discoveries to applications.
Technology Testbed – Fast-growth opportunities, digital and energy, benefit from  large-scale smart-city demonstrators, such as CityVerve and Triangulum, whilst industrial biotechnology, strengthened by the concentration of related industries in the North of England is focussing on sustainable and resilient alternatives to fossil fuels and feedstocks.
Gap Analysis
Education – whilst the region has globally competitive multi-national companies and SMEs in each sector, and a higher than average proportion of the area's workforce employed in research professions, a significant share of the population has no qualifications at all.
Innovation – Whilst locally knowledge transfer and leadership is strong, nearly half of companies across the region are not 'innovation-active'.
Productivity – productivity and average annual full-time pay remains below the England average.
Finance – access to venture capital fnding remains behind the South East and access is needed help bridge the gap between start-up and scale-up
Next Steps
Recommendations to address the issues identified in the Science and Innovation Audit include:
Drive further synergies from our core capabilities
Strategic investment to capitalise on the key intersections and opportunities – Pankhurst Centre for Research in Health, Technology and Innovation.
Strengthen the innovation support ecosystem – enhance collaboration, nurture talent and improve business support.