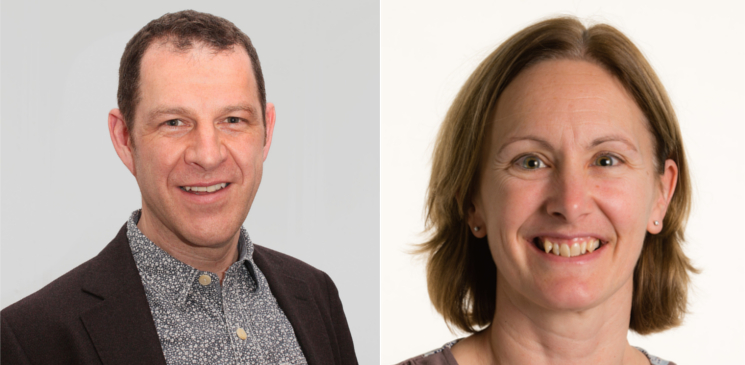 The N8 Research Partnership has announced the appointment of Professor Katherine Denby as Academic Director and Jonathan Oxley as Operations & Business Development Director.
The appointments mark the coming together of the N8 AgriFood Operations Team which combines a strong academic lead in Katherine Denby and an experienced private sector operations director in Jonathan Oxley.
Based at the University of York, Prof Denby and Mr Oxley will work together to promote collaboration across the N8 Universities in the AgriFood arena, encouraging new collaboration between research groups from different disciplines and crucially enhancing engagement with the private sector along the AgriFood supply chain "from farm to fork".
Prof Denby said:
"The breadth and depth of AgriFood research across the N8 partnership means we can bring different research skills and expertise together to achieve new outcomes.
"The N8 partnership is a real step-change in how universities work together, greatly expanding what a single university can achieve. Pooling resources, including multiple university farms, as well as complementary expertise gives us a competitive research base that can meet the varied challenges of sustainable, resilient and healthy food supply.
"The N8 AgriFood programme provides a single forum for industry to access academic research across these eight northern universities, and with a team of Knowledge Exchange fellows will drive the formation of productive partnerships across the public and private sector."
Prof Denby's research is focused on understanding and enhancing plant disease resistance and she brings a wealth of international experience to the role. She has worked in the USA as well as South Africa, before returning to the UK ten years ago.
At Warwick University, as a member of the Warwick Systems Biology Centre, and more recently the Warwick Integrated Synthetic Biology Centre, Prof Denby has worked with mathematicians and engineers to generate novel biological insight and develop approaches to enhance plant breeding. This experience in interdisciplinary research will be valuable to the N8 AgriFood programme as it seeks to address challenges from food production to consumer behaviour.
Mr. Oxley holds almost 24 years' experience with BP where he was latterly the leader of a number of alternative energy projects. He has private-sector experience ranging from research laboratories through to customer-facing and a variety of management roles. He also spent time on secondment to the Energy Technologies Institute (ETI) to lead a bioenergy research consortium with five UK universities and two public-sector research institutions.  This marked the beginning of his passion for academic and private-sector collaborative research and agriculture.
Mr Oxley said
"N8 AgriFood is pivotal in a world where the global population is growing larger every year. Our research encompasses the whole sector, from what seeds farmers choose to plant, to growing and harvesting, through to food transport and supply and ultimately why consumers choose to purchase and eat certain foods; it has very clear real-world applications."
Dr Peter Simpson, N8 Director, said:
"We are delighted to have Professor Denby and Mr Oxley join the N8 AgriFood team. These appointments mark the coming together of the team, so to speak, joining excellent academic and private sector experience together.  Both Professor Denby and Mr Oxley understand the huge benefits, to both academia, the private sector and the UK economy as a whole, of Northern Universities pooling their resources and working closely with industry."