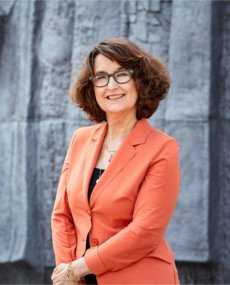 Simone Buitendijk is the thirteenth Vice-Chancellor of the University of Leeds. Before joining the University, she was Vice-Provost (Education) and Professor of Maternal and Child Health at Imperial College London.
Before her role at Imperial, Professor Buitendijk was Vice-Rector at Leiden University in the Netherlands. She was responsible there for education, student affairs and diversity; and played a major role in the overall strategic leadership and direction of the university as a member of a three-person leadership team.
She was previously head of a large research group in Paediatrics and Child Health at TNO Institute for Applied Sciences in the Netherlands and concurrently Professor of Maternal and Child Health at Leiden University Medical Centre and Professor of Midwifery Studies at the University of Amsterdam Medical Centre.
In addition to strengthening the links between education and research in her previous roles, Professor Buitendijk has led large change programmes, worked to further equality, diversity and inclusion and has extensive experience of driving the digital and online learning agenda.
She has a clear vision for how research and education should work in tandem in a global university with strong civic roots.
Among other responsibilities, Simone is the Chair of the University's principal academic authority, the Senate, and of the University Executive Group.