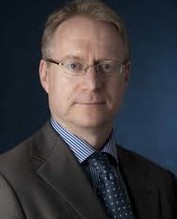 Professor Nick Wright is Pro-Vice-Chancellor for Research and Innovation at Newcastle University. He is tasked with providing academic leadership to strengthen Newcastle's reputation as a leading research-intensive University, and helping to maximise the economic impact of its intellectual capital.
An electrical engineer specialising in the application of novel materials for electronics in extreme environments, Professor Wright has over 20 years' experience in aerospace and marine technologies. He is a leading expert in the field of nanotechnology and nanofabrication. Prior to his current role, he was Director of the University's Institute for Nanoscale Science and Technology and Dean of Business Development in the Faculty of Science, Agriculture and Engineering.
Professor Wright is also Director of the Tyne Subsea Centre, the National Centre for Subsea and Offshore Engineering. The first of its kind in the UK, the Tyne Subsea Centre brings together academia and industry to create a world class engineering research facility.
Externally, he is Chair the Russell Group PVC Research Committee.