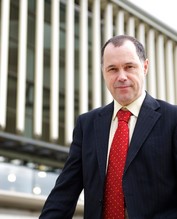 Professor Mark E. Smith became Vice-Chancellor of Lancaster University on 1 January 2012, and Chair of the N8 Research Partnership in October 2018.
He was born and raised in Suffolk and went on to read Natural Sciences at Churchill College, University of Cambridge with a PhD in Physics gained at the University of Warwick. Professor Smith left the world of academia and became an application scientist for Bruker Analytische Messtechnik in Germany and then moved to Australia where he held the post of a research scientist in the Division of Materials Science at CSIRO.
In 1992 he returned to the UK to be a lecturer and then reader in solid-state NMR at the University Kent thereafter returning to the University of Warwick where he went on to be a professor of physics. He was the former secretary of the British Radiofrequency Spectroscopy Group and the reporter on solid-state NMR for the Royal Society.
He has published more than 270 papers and has written a research monograph on solid-state NMR of inorganic materials. Mark has extensive management experience, holding the previous post of Director of the Centre for Magnetic Resonance. He was chair of the CLRN (West Midlands, South), is a board member of the UK Research Reserve, was a member of the EPSRC's Strategic Advisory Team on Infrastucture and was a Board member of the JISC.
More recently he became a Regional Councillor for the CBI North West and a member of the Graduate Prospects and HECSU boards and is the current chair. As well as being a member of the HESA Board and and HESA Audit Committee, Mark became a member of the UniversitiesUK Research Policy and Long Term Strategy Network groups.
In January 2013 he became a board member of the Higher Education Funding Council for Wales and additionally serves on its Research, Innovation and Engagement Committee.  As Chair of the Board for the Headlands to Headspace, a project developed by the Morecambe Bay Partnership, Mark continues to provide university support to the local region.