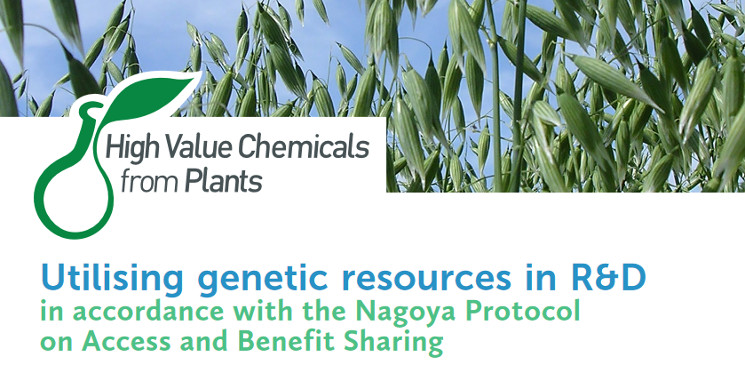 Details of training event for researchers and support staff
The BBSRC-funded High Value Chemicals from Plants Network led by Professor Ian Graham at the University of York is holding a free, half day training event – "Utilising genetic resources in R&D" – on 13th July 2017 in York.
This is an opportunity to gain an overview of the Nagoya Protocol and associated EU Regulations which have significant implications for the way R&D is conducted using certain plant, microbial, biomass and even food waste materials.
This training event should appeal to early career researchers, given its practical, informal nature, but may also be of interest to IP/legal/grant administration staff who are looking for a basic introduction to the Nagoya Protocol and the obligations this places on University support staff.
We have developed this event with support from Katie Beckett of Regulatory Delivery, the authority within the Department for Business, Energy and Industrial Strategy responsible for implementation and enforcement of the Nagoya Protocol in the UK. The event will include a variety of interactive learning approaches developed from our recent workshop "Sharing nature's genetic resources – implementing the Nagoya Protocol on Access and Benefit Sharing". Here's what some of our participants at that workshop had to say –
"You organised a very good event! I think this day event really helped make CBD-ABS 'come of age'. In terms of the practicalities, it was perfectly balanced between presentations, exercises and interactions with others at the meeting"
"Thanks again for organising the event. It was a really informative and useful day, and I especially appreciated the relaxed and informal atmosphere that encouraged lots of friendly conversations at our table and with other participants."
"I found the workshop very useful and look forward to following up on this important topic within the network and sharing our experience and challenges."
An event flyer is attached; full details and the online booking form are available here. All enquiries can be directed to Dr Wendy Lawley, HVCfP Network Manager.
NB: This event is open to anyone who is a member of a BBSRC NIBB. If you wish to attend but do not currently belong to a BBSRC NIBB,  you can join one for free using the short online form. The HVCfP membership form is available here.