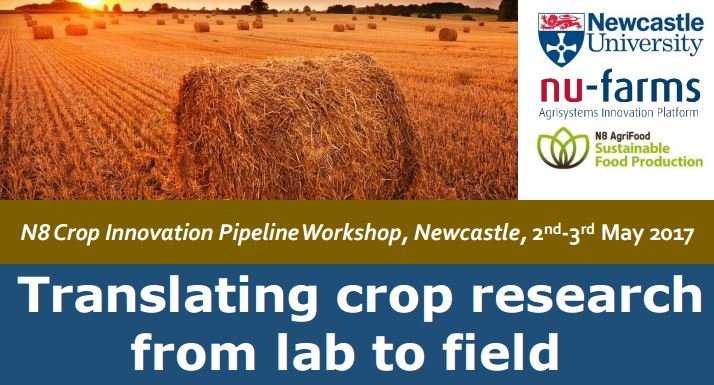 N8 Crop Innovation Pipeline Workshop  2nd – 3rd May 2017
Newcastle
This meeting is an opportunity for scientists from academia and industry and representatives from the farming community to present and discuss their latest research and ideas relating to translating and implementing plant biology research into crop improvement strategies. Delegates will have the opportunity to see the how the newly-upgraded facilities at the University's Cockle Park can contribute to N8 agri-food research programmes.
Themes will include:
crop resilience & productivity: plant growth & development; plant stress biology; crop protection; herbicide resistance; soil health; plant-microbe interactions
diagnostics: molecular tools; kits; mobile labs and on-site monitoring
precision agriculture: on-the-go crop/soil sensing systems, high throughput phenotyping, decision support
plant transformation: from novel plant production to field-scale trials
future challenges for the agricultural industry: herbicide resistance; climate change, profitability and sustainable intensification
Confirmed Speakers
Chris Tapsell – Technical Director at KWS;
James Mills – Advisor for NFU;
Jon Knight – Head of Crop Health and Protection at AHDB;
Ari Sadanandom – Director of DCCIT (Durham Centre for Crop Innovation Technology);
Rick Mumford – Director of Science, Fera;
Robert Edwards – Head of the School of Agriculture, Food and Rural Development;
Katherine Denby – Acedemic Director of N8 AgriFood Resilience
Agenda
Tuesday 2nd May, Newcastle Civic Centre
12pm – 1pm                 Arrival and Lunch
1pm – 3.45pm             Introduction to conference followed by talks from across the N8 and invited industrial speakers
4pm                            Coach transport to Cockle Park
4.30pm                       Introduction to the vision for Cockle Park Farm and lab facilities
4.45pm – 6.30pm      Poster session and informal networking
6.30pm – close          Dinner, including Hog roast and drinks in the marquee
Wednesday 3rd May, Newcastle Civic Centre
9.30am                      Coffee
10am – 1pm               Talks
1pm                            Lunch and informal networking
Please register for this event.
N8 Plant Science Conference Flyer for this event.