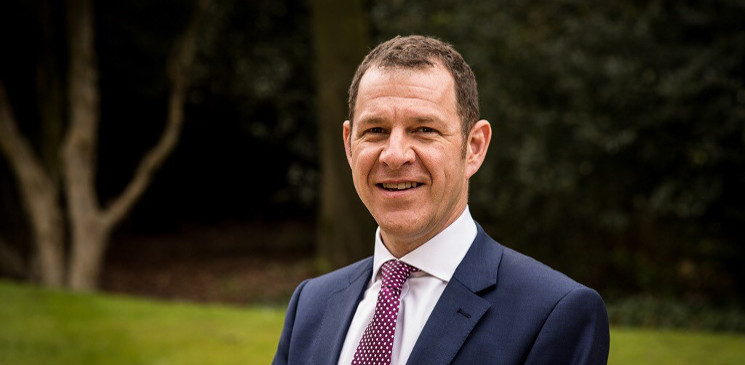 A blog by Jonathan Oxley – Operations and Business Development Director
When the idea of N8 AgriFood was first conceived, it was set against a backdrop of the rural agricultural and nutritional challenges of the north of England, but with a keen awareness of the international relevance of these same issues.  Nonetheless, no one could quite have foreseen the level of interest and attention that N8 AgriFood would receive in the international arena, enhanced perhaps, by the changing nature of the UK's trading relationships around the world.   
Researchers across all the N8 universities were already active internationally, but N8 AgriFood is providing a renewed focus on key areas of overseas collaboration, and this is further enhanced by the recent appointment of Marianna Ventouratou-Morys as International Strategy Manager on the Programme.
Worldwide Challenges, Worldwide Collaboration

Following the launch on N8 AgriFood 2016, we have been involved in a number of overseas-related activities during the last year, working in close cooperation with the UK Government's Department of International Trade (DIT) and the Foreign & Commonwealth's Science and Innovation Network (FCO SIN).  Whilst it is clear that the UK has a long history of practice and innovation in agriculture, it is equally clear that in today's evolving environment, we also have the opportunity to learn from other parts of the world.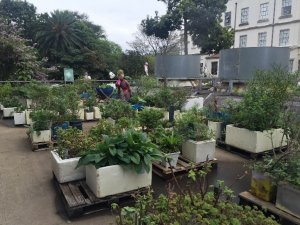 Nowhere has this been more evident than on a visit to Brazil last September where we saw first-hand the way research staff at the University of São Paulo hospital were using green spaces an urban gardening to grow herbs and vegetables. Not only did this brighten up drab, unused concrete spaces, but therapeutic benefits were also observed on the patients who along with staff now spend time growing and benefiting from a fresh harvest on their doorstep. It's also been adopted in local parks, where enthusiastic residents are running their own gardening projects reminiscent of the " Incredible Edibles" activity here in the UK.
Brazil is also a powerhouse in international agriculture and the biggest producer in Latin America, with sugar cane and crop production on a scale unheard of in the UK.  Prof Les Firbank at the University of Leeds has lectured on sustainable intensification of agriculture at both the University of São Paulo and at Embrapa's cattle research station in São Carlos. Embrapa is Brazil's leading research body, and at São Carlos we were introduced to the latest advances in cattle breeding and dairy production – and their authentic style of herding cows from field to field.  Digitally monitored cow feeding stations blend seamlessly with rodeo- style horse riders guiding cattle.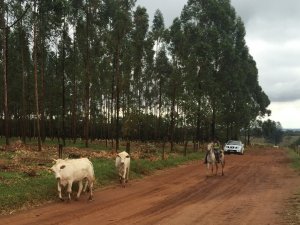 Argentina, on the other hand is perhaps best known for great steaks and Malbec wine.  Less well known is the extensive production of a variety of cereal crops that help feed the world.  N8 AgriFood researchers were invited by the UK's Department of Business, Energy and Industrial Strategy (BEIS) to organise a visit to discuss the potential for collaboration on science and innovation in agriculture and food during early 2017. 
It was clear from our discussions with academic colleagues at the Universities of Buenos Aires and Rosario, that there are similarities and differences in forging a sustainable agri-food future in the two countries. For example, Argentina has much land which is semi-arid and water-challenged; despite the UK's reputation for 'weather', our evolving climate is increasingly exposing us to similar conditions in, for example, East Anglia (Global Food Security Report, "Environmental Dynamics", 2017). Learning how to manage water and catchment areas is a clear example of potential synergy between the two countries.
Agriculture was front-page news in Buenos Aires during our visit – as it was during a visit to China in November. Not only does China face the challenge of an ageing farming population, but also the challenges of small farm sizes, which do not lend themselves to the latest farming practice efficiencies. The average farm size is only 0.65 Ha, compare to 57 Ha in the UK. China is now progressing land reforms to try and drive up average farm sizes, and with that, production efficiencies. Technology is also at the heart of China's efficiency drive, but it is also worth noting that technology is relative. For example, during a visit to a high-tech agricultural enterprise park we were show a sophisticated floor-to-ceiling electronic screen showing pig transactions across the country, with same-day financial settlements to farmers. On the other hand, we heard of the livestock health challenges with pigs in China; here, something as simple as improved ventilation in the buildings may help to alleviate these issues.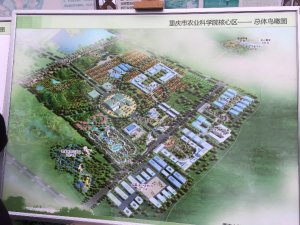 Our visit to Chongqing demonstrated the scale and appetite of China's endeavours to improve their sustainable agriculture. At the Academy of AgriSciences, we saw the impressive 35 Ha horticultural demonstration zone – part of a larger 130 Ha practical centre – where ideas for urban green spaces and ecological tourism were being evaluated.  The pace and scale of China's activities are impressive in every sense.  There are undoubtedly opportunities to share technology and practical implementation ideas from the UK and there are also huge opportunities for us to learn how China manages the interactions between people, agriculture and the urban environment.  China's unique demographics and economic growth means it cannot afford not to experiment at scale and in parallel.  Some of these developments may not be so successful, but they will also more quickly find potential means of developing sustainable options to bring harmony to the food-people-land nexus.

Food security problems are not unique to any country, they just might be different and solutions to will come from sources across the globe.  With N8 AgriFood providing a unique platform for collaboration with stakeholders across the world, the development of sustainable, resilient and healthy food supplies for all can only be accelerated. 
 You can find out more about N8 AgriFood's activity on our website or by following us on Twitter.